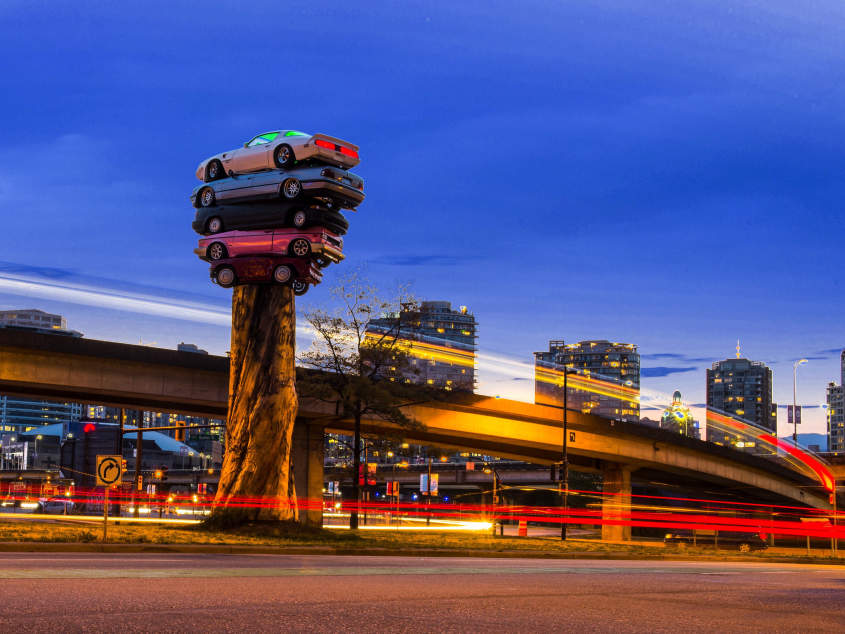 Photo credit: Spencer Finlay | Flickr
Vancouver Public Art Mini-Guide
When the skies clear and you're looking for an adventure, there's no better way to take in some Vancouver culture (and get to know the city in the process) than by scouting out public art scattered around town. Ranging from surprising to poetic and, occasionally, baffling, around 350 outdoor art works can be found in parks, transit shelters and even on random street corners. Follow these tips, and keep your eyes peeled.
Find Out What's New
The City of Vancouver has a constantly growing and changing public-art program. Get a map of the latest commissions and installments, search public art works and find neighbourhood information on the City of Vancouver's Public Art website. For an insider's perspective on the importance of public art to this community, check out the Our City Our Art blog, curated by students at Emily Carr University.
Public Art Events
The Vancouver Biennale is a public exhibition of works by internationally renowned artists that is curated and installed around the city every two years, turning Vancouver into an open-air museum. With pieces that are known to create quite a buzz—international sculptures, new media and performance art, it's worth checking the Biennale website to find out about the latest installations.
See the Icons
Vancouver's most famous public art has become a main travel stop in itself. The vibrant First Nations totem poles at Brockton Point in Stanley Park represent those carved as early as the 1880s. Interpretive panels in the park explain each totem's significance and history. Another icon you may recognize, the inukshuk at English Bay, became British Columbia's emblem during the 2010 Olympic Winter Games. An ancient Inuit symbol of friendship, this giant stone cairn, which resembles a person with outstretched arms, is simple yet striking.
Read Deeper
On the surface, Myfanwy MacLeod's The Birds at Southeast False Creek Plaza at the Olympic Village seem humorous and totally out of place. In fact, the 18 foot sparrows are actually meant to symbolise the threat even beautiful animals have on biodiversity when introduced into a non-native environment. Other works to watch for include The Words Don't Fit the Picture at the Vancouver Public Library's Central Branch, Kingsway Luminaires on Kingsway at Knight Street (best viewed after dark) and the enigmatic Park, which is comprised of two objects that resemble tarp-draped cars that are moved to various locations and parked along the Ontario Greenway.
Go by Bike
If you have an afternoon or a full day, try pedaling to the city's bike-themed public art, especially the pieces located along the seawall. You'll see mosaics and murals, light posts and benches. And cycling the city is a great way to experience Vancouver's avid outdoors scene to boot.