Golf
Trate de mantener sus ojos en la bola mientras juega en Vancouver… ¡si es que puede! Las vistas de la ciudad, del Estrecho de Georgia y de las Montañas Costeras, muy cercanas a los campos de golf, enmarcan cada rincón de estos escenarios majestuosos. Puede ser un poco difícil concentrarse en el juego con tan hermosos paisajes, pero los campos en Vancouver ofrecen una gran cantidad de retos en el juego, para reubicarse en el green.
Furry Creek Golf & Country Club (Golf en el Arroyo Furry y el Country Club)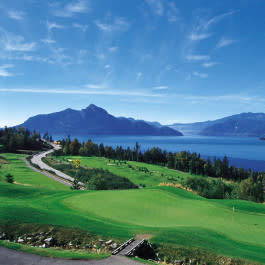 Conocido por los golfistas expertos como el más escénico de los campos de golf, Furry Creek Golf and Country Club es uno de los más hermosos campos del mundo. Con vistas que quitan la respiración, un diseño lleno de dramatismo y facilidades de primera clase, Furry Creek les proporcionará una inolvidable experiencia golfística a jugadores de todos los niveles de juego y mantendrá cautivados a los amigos o clientes de negocios, ya que además cuenta con instalaciones para celebrar torneos y eventos corporativos con banquetes incluidos. Una mirada desde el primer tee, a 165 golpes hacia las tranquilas aguas de Howe Sound y las montañas y glaciares a la distancia, nos harán darnos cuenta de que éste es un campo como ninguno otro. Quizás lo único más inspirador que este festejo de la naturaleza, es el campo mismo. Cada hoyo es una obra de arte, totalmente diseñado y conservado meticulosamente con los más estrictos estándares. De hecho, es un campo de 6,025 yardas, de 18-hoyos, cuyo entorno natural, inspira al más exigente jugador.
Northlands Golf Course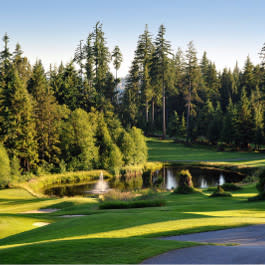 Northlands Golf Course ¡es el mejor campo público en Metro Vancouver! A sólo 20 minutos del centro de Vancouver, Northlands se enorgullece de sus cuatro sets de tees que dan la bienvenida a los golfistas. Experimente uno de los más sorprendentes campos públicos, rodeado de montañas, donde descubrirá un impresionante campo con asombrosas vistas y en el que se puede jugar durante todo el año. Cuenta con el diseño de Les Furber, uno de los más prolíficos diseñadores de campos de golf, que le hará regresar una y otra vez. En su recorrido por el campo, probablemente vea un venado, un águila u ocasionalmente un oso. En Northlands "la naturaleza es su compañero de juego". Después de su juego, goce de una tibia y amigable atmósfera en el Northlands Bar and Grill. Aquí descubrirá uno de los mejores patios para disfrutar descansando o admirando el escenario natural de North Vancouver.