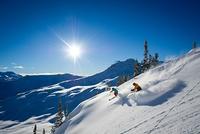 Whistler Blackcomb has generously provided Tourism Vancouver members with an exclusive five- and 10-day Edge Card offer, which features unlimited early-season skiing or riding. The Edge Card is good as of opening day (November 26, 2015) through to December 18, 2015.  
This special promotion is only available to purchase online with the discount code provided below until December 18, 2015. Please note the corporate web store is not the public facing one on the main website.
To redeem this offer, create a username and password (or use your existing profile if you have purchased a pass from Whistler Blackcomb before), and you will be prompted for the company name and discount code in order to purchase at the corporate rate. Please note the discount will not be applied until the end of the transaction.
Company Name: Tourism Vancouver
Discount code: 12463
Website link: http://www.whistlerblackcomb.com/buycorpedge

EDGE CARDS CORPORATE RATE SAVINGS OFF IN-RESORT
5 DAY
ADULT (19 - 64) $399.00 Up to $245 & early season BONUS that is up to 23 free days!
10 DAY
ADULT (65 - 74) $699.00 Up to $591 & early season BONUS that is up to 23 free days!
Terms and conditions: Subject to GST. Limit one Edge Card per person. Only available for Canadian, Washington and Oregon State residents. Non-refundable and can only be used during the 2015.16 winter season. Last day to use the discount code is December 18, 2015.
Corporate Edge Card holders qualify for preferred partner lodging rates in Whistler that can be booked by quoting corporate preferred partner.
Please click here for more info. 
HOW TO BOOK
1. Go to Corporate EDGE CARD website » here
2. Select product quantity and Add To Cart and Check Out
3. Review Shopping Cart and Continue Check Out (discount will not yet be applied)
4. Sign into personal account or sign up
5. Complete Billing Information, Billing Address, and Continue Check Out
6. Assign Products and Continue Check Out
7. Read and agree to Release of Liability, and Continue Check Out
8. Select Resort Charges choice and Continue Check Out
9. Complete Delivery Information and Continue Check Out
10. Complete Additional Information: Company Name, I AGREE, and Continue Check Out
11. Select payment, apply discount code under "Discounts" and Continue Check Out
12. Review your order (promo applied), Billing and Shipping Information, and Complete
Timing note: It will take up to 24 hours for your order to be processed prior to pick up in Whistler. At pick-up ID must be presented even for children, ID for kids can be passport, birth certificate or Care Card.
Avoid line-ups and go direct to lift on your first day by uploading your photo and the pass can be mailed to you taking up to 1 - 2 weeks to receive.