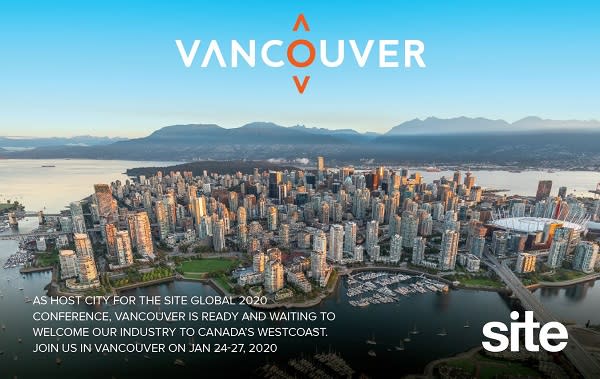 With support from the VHDA, Tourism Vancouver is pleased to welcome the highly regarded SITE Global 2020 Conference (January 24 – 27). The Society for Incentive Travel Excellence (SITE) is the only Business Events association dedicated exclusively to the global incentive travel industry. The conference will be held at the JW Marriott Parq, with other hotels including the Sheraton Wall Centre, Westin Bayshore, Shangri-La and Fairmont Pacific Rim hosting various events.
The event's education will be a combination of leading-edge content designed to drive engagement while the immersive breakout sessions will bring attendees into Vancouver for unexpected and thought-provoking learning opportunities. The unique itinerary created for SITE makes it easy to share why thousands of incentive programs have taken place in Vancouver with their own program participants. The comprehensive agenda involves various cultural immersions to promote the diversity in Vancouver including:
1) Made In Vancouver - Small Business Lessons from Local Artists Tour at Granville Island
2) Sustainability in the Event Industry at  the Vancouver Convention Centre
3) Public Art: Building a Festival and a Story of Reconciliation – Mural tour of Vancouver
4) How a Hospitality Venture Supports Artists and Social Housing with Skwachays Lodge
5) Take a Hike: an Ecology Tour that Supports Teens-in-Trouble programming
6) Custom Chinatown guided tour with food tastings and visit with S.U.C.C.E.S.S. Foundation
7) Dr. Sun Yat-Sen Cultural Experience tour, including docent, tea ceremony and calligraphy writing
With a record registration for this conference, over 500 attendees from around the world will be attending SITE's signature event in Vancouver!