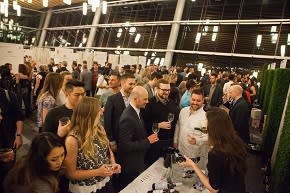 Calling all wine lovers! Discover the wines of France and beyond at the Vancouver International Wine Festival!
Tourism Vancouver members receive an exclusive offer for $10 off the regular ticket price for the International Festival Tasting on Friday, February 28. Members pay only $95 all inclusive (regular price $105) to sample wines from 162 wineries from around the wine world, including 42 wineries from the featured country, France.
The International Festival Tastings are considered to be the heart of the festival. Don't miss this opportunity to sip and savour wines from around the world and meet dedicated vine stars from each winery. This offer is only available from Thursday, February 20 at 9:30 a.m. to Monday, February 24 at 5 p.m. A limited number of tickets are available on a first come, first served basis. Don't delay, purchase your tickets here, select your ticket quantity and enter the discount code: 2020TVANMEM (not case sensitive) under the Review Breakdown & Totals section.
The Vancouver International Wine Festival hosts the wine world in Vancouver from February 22 – March 1 and features 57 events, including dinners, lunches, minglers, tastings and more. For a full schedule of events visit vanwinefest.ca or the interactive Festival at a Glance.