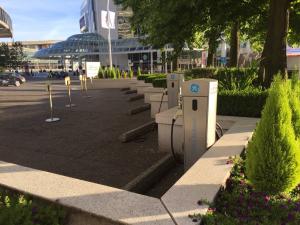 In Vancouver there are currently 26 hotels in Vancouver that offer Electric Vehicle charging stations, complementing more than 115 charging stations throughout the city.
So what's the rationale for installing public Electric Vehicle charging infrastructure at your business?
Primarily, you're creating a new convenience for guests:
Installing an EV station is a visible brand strengthening opportunity that demonstrates your businesses' commitments to green best practices. It will also facilitate a transition to adopting an EV fleet in future.
Allows you to build a positive experience while reducing stress with your guests by providing a solution to the electric vehicle driver's 'range anxiety' with public charging infrastructure.
Demographics studies show that in this first phase of market adoption of EVs, more than 85% of EV drivers have higher than average household incomes ($100k/year and greater).
According to the Centre for Climate and Energy Solutions (C2ES) Public EV infrastructure will attract these high-yield customers and encourage them to linger and a study by Accenture found that 89% of EV drivers typically make a purchase when charging at a retail location; 83% of respondents prefer to shop more frequently at locations that offer EV charging.
Powertech labs is currently tracking 462 charging stations in B.C. to better understand loads for future planning. The data is publicly available and allows us to see how many CO2 emissions are being avoided. In addition, some stations share their charging data on- site. For example, the station in front of Edible Canada on Granville Island has had 6,460 unique charging events reducing C02 emissions by 41 tonnes.  If you are interested in evaluating the potential for a charging station, check out the resources at PlugIn BC. 
Bonus: did you know EV owners tend to be more affluent and younger than hybrid owners? Check this out.