Vancouver, Canada (November 8, 2018): Vancouver has been ranked one of North America's top meeting and convention destinations according to the 2018 Watkins Report Meeting and Convention Planners Survey.
Considered the most comprehensive and authoritative ranking in the industry, the biennial report is based on a survey of nearly 1,000 meeting and convention organizers in North America, evaluating the 40 most popular convention destinations in the US and Canada.
The Watkins Report covers topics concerning city and convention bureau perception, meeting requirements and key factors in making site decisions.
The honours awarded to Vancouver in the 2018 survey include:
·        #1 for Meeting Planner "Likely to Recommend"
·        #1 for Most Helpful Convention & Visitor Bureau / Destination Marketing Organization
·        #1 for Superior Convention Centre Services
·        #1 for Safe and Secure Destination to host a meeting
·        #1 for Great All-Around Convention City in Canada
In addition, Vancouver placed in the top 10 in the categories of:
·        Great All-Around Convention City in North America
·        Most Positive Overall Experience for Major Conventions
·        Easy Accessibility Within the City
·        Ease of Doing Business
·        Destinations with the Best Hotels
The Watkins Report findings were met with applause from Vancouver's meetings and convention industry, which is currently experiencing one of the busiest convention years in its history, with 32 citywide meetings on the books and dozens more smaller meetings and events attracting out-of-town business travellers.
"The Watkins Report underscores Vancouver's reputation as a premier global meetings destination" said Dave Gazley, vice president of Meeting & Convention Sales at Tourism Vancouver. "The recognition Tourism Vancouver and the Vancouver Convention Centre received for being the #1 'Most Helpful Convention and Visitor Bureau / Destination Marketing Organization' and #1 for 'Superior Convention Centre Services' is particularly gratifying"
Claire Smith, vice president of Sales and Marketing at the Vancouver Convention Centre added: "The global business events industry is extremely competitive. To once again receive top rankings in the Watkins Report that represents the views of nearly 1,000 meeting planners is both humbling and inspiring. We are truly proud of these results that speak to the strength of our entire hospitality and events community, and the global appeal of the Vancouver Convention Centre and the destination."
"This prestigious ranking once again highlights the unique appeal of the Vancouver Convention Centre on the world stage," said Lisa Beare, Minister of Tourism, Arts and Culture. "The highly competitive meetings and conventions industry is an important part of B.C.'s visitor economy. I'm proud of the team at the Vancouver Convention Centre, Tourism Vancouver and the hospitality community for this outstanding achievement, and their ongoing effort to make B.C. a better place for people to live, work and visit."
Vancouver also consistently receives great feedback from meeting planner clients who bring groups to the destination.
Virgina-based Leslie Zeck, director of Meetings for the International & American Associations for Dental Research said of her recent Vancouver convention experience: "I cannot think of any other convention destination that checks all of the boxes like Vancouver does. After attending and planning meetings all across the globe, I can say that planning or attending a meeting in Vancouver just allows everyone to breathe easier. Booking this destination made me a believer. Vancouver as a destination is the formula for success."
Alongside this recognition from Watkins Research Group, Vancouver has recently earned a number of other accolades, including top honours from STR's DestinationMAP (Meeting Assessment Program), which named Vancouver the highest-rated business meeting site in North America; Skytrax's award for number-one airport in North America (the ninth consecutive year Vancouver International Airport has received the award); and Canada Green Building Council's recognition of the world's first double LEED Platinum certified Convention Centre in Vancouver.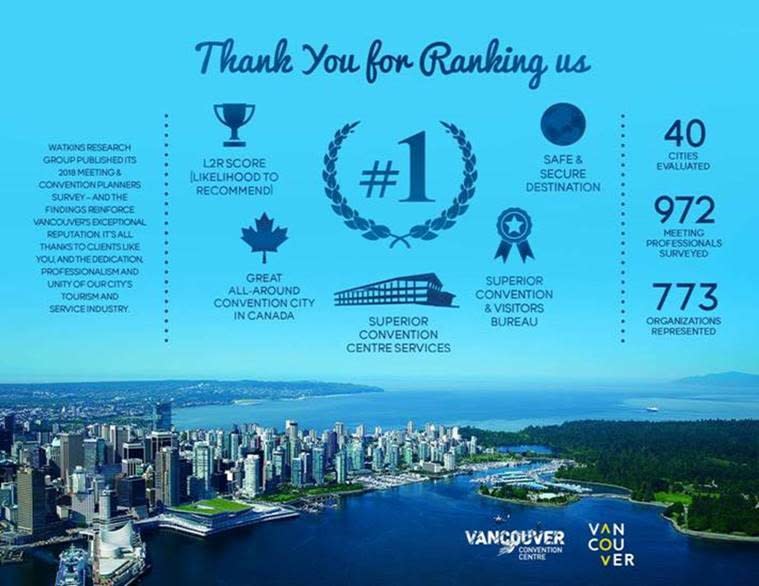 Editors: High resolution photos and infographic available here
-30-
About Tourism Vancouver:
Tourism Vancouver is the official destination marketing organization for Vancouver, British Columbia, Canada. The not-for-profit, member-based organization represents over 1,000 tourism businesses in Metro Vancouver and beyond. Tourism Vancouver markets Vancouver as a premier leisure, business, meetings and group travel destination in strategic markets around the world.
About the Vancouver Convention Centre:
Located on Vancouver's downtown waterfront with a dramatic mountain backdrop, the world's first double LEED® Platinum certified convention centre offers one of the most beautiful settings in the world. The award-winning Vancouver Convention Centre features two connected buildings with a combined total of 466,500 ft2 (43,340 m2) of flexible meeting, exhibition, ballroom and plenary space. The facility is committed to environmental sustainability as well as unparalleled service, technology offerings and culinary excellence.
www.vancouverconventioncentre.com
Media Contacts:
Amber Sessions, Tourism Vancouver
Email: asessions@tourismvancouver.com
Phone: 604.631.2870
Jinny Wu, Vancouver Convention Centre
Email: jwu@vancouverconventioncentre.com
Phone: 604.647.7353