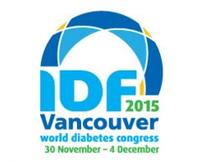 Challenge yourself and your colleagues to participate in the 5K International Diabetes Federation Run/Walk on December 3. The event, known as the 5K@IDF, is a local engagement and wellness activation of the International Diabetes Federation World Congress which takes place at the Vancouver Convention Centre in December with over 8,000 delegates attending. 
The goal of the run is to engage delegates and citizens of Vancouver to emphasize the need for increased physical activity to help prevent diabetes and diabetes complications.
The 5K@IDF Run/Walk takes place on Thursday, December 3rd from 6:30 pm - 8:00 pm starting at the Vancouver Convention Centre.
Participation in the run is free. Sales from the commemorative 5K@IDF runner shirt ($13.50 USD + plus processing fee) will directly benefit the International Diabetes Federation's Life for a Child Programe.
Be a part of this fun public event for a good cause and good health!