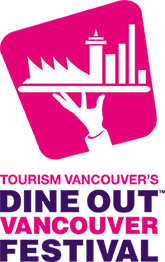 Contributing in excess of $4 million to the local economy, the 2016 Dine Out Vancouver Festival raised the bar with a record-setting number of participating restaurants, increased reservations and more hotel bookings than ever before. After yet another successful year, it's no wonder readers of the Georgia Straight once again awarded Dine Out a Golden Plates Award for "Best Food Festival/Event".
During the 14th anniversary of Canada's biggest festival of food and drink, more than 84,000* seated diners (a 14.8 percent increase over last year) sampled, sipped and devoured their way through 289 restaurant menus in Metro Vancouver. Thousands more took part in an extensive roster of inventive culinary experiences that included an international chef exchange with major culinary hubs like Sydney, New York and Copenhagen; a series of cocktail masterclasses led by one of Vancouver's top bartenders; and exotic offerings showcasing the city's range of multicultural dining with vibrant experiences inspired by India, Germany, Italy, the Mediterranean and beyond. Also new this year: Dine Out's first-ever craft beer, an English-mild style ale crafted exclusively for the festival and poured at select events.
And now to the meat-and-potatoes – the numbers:

• 289 – number of participating restaurants
• 102 – total number of culinary events and experiences
• 34.6 percent – percentage increase in restaurant revenue over last year*
• 2.2 million – total number of online Dine Out menu views
• 84,621* – total number of diners seated
For more information about the Dine Out Vancouver Festival, click here. Stay tuned for Dine Out Vancouver Festival 2017, taking place January 20 – February 5, 2017.
*based on online reservations only. Note that only 59 percent of participating restaurants accepted the online reservation system bookings, so this number is likely much higher.