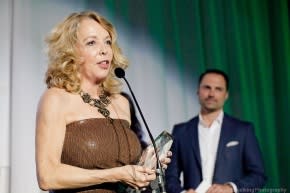 Boasting cutting-edge cuisine, innovative presentation, and friendly service, it is not difficult to see why Culinary Capers, a Tourism Vancouver member since 1994, was recognized at the 2016 Canadian Event Industry Awards!
Congratulations to Debra Lykkemark, CEO of Culinary Capers Catering, for winning Caterer of the Year at the ceremony on March 31st in Toronto. The award recognizes an event professional who inspires others to achieve success, has made significant contributions to the catering industry, and displays exemplary ingenuity with food ingredients, preparation and presentation. 
Culinary Capers was also recognized earlier in March by the International Caterers Association at the 2016 Catersource and Event Solutions Conference & Trade Show in Las Vegas which was attended by over 6500 industry professionals from around the world. 
The winning entry for Signature Caterer for a Multiple Day Event was presented to Culinary Capers for the Nordstrom Vancouver Opening events in September of 2015. Culinary Capers executed seven events over an eight-day period, highlights included the opening Gala for 3000 guests, breakfast for 1000 for the Employee Rally, and a Beauty Bash street party for 2500. Regionally influenced menus featured handcrafted hors d'oeuvres, petite desserts and small plates.  
To view the entire press release, click here.