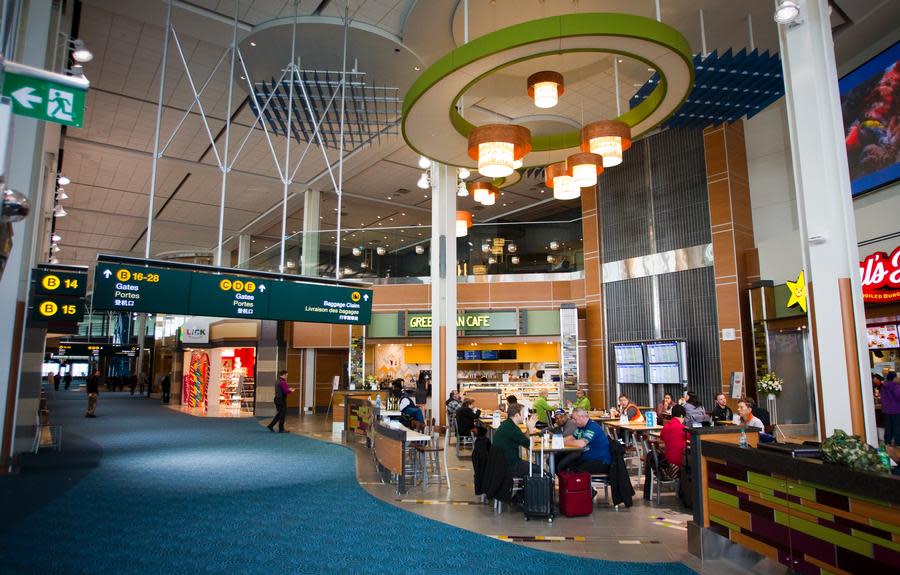 The A-B Connector Features New Retail Program, Artwork and Gate Capacity
On January 13th, Vancouver International Airport (YVR) celebrated the opening of the expanded Domestic Terminal, the A-B Connector. Featuring new gate capacity, an expedited baggage system, seismic upgrades and a wide range of new dining and shopping options, the A-B Connector will keep YVR connected to destinations across Canada.
The new $213 million expansion is the first major infrastructure project completed as part of YVR's 10-year gateway strategy announced in 2012 to keep YVR competitive and an economic generator for B.C.
"We're proud to deliver this project on plan and on budget," said Craig Richmond, President and CEO, Vancouver Airport Authority. "YVR is facing increased competition from other airports and both travellers and airlines have choices. In order to remain competitive and continue to be an economic generator and jobs creator for British Columbia, we must continue to invest in projects that make it easier and faster for passengers and their baggage to move through the airport."
The upgrades and expansion were made to the original areas of YVR's 1968 terminal. The A-B Connector provides improved passenger navigation and flow, increased gate capacity and holdroom space, new security and safety enhancements and seismic upgrades to ensure a more comfortable and efficient experience. In addition, an expedited baggage system connects bags between international and domestic flights more quickly.
Passengers travelling through the A-B Connector will enjoy an array of street priced food and beverage options at 10 new shops, restaurants and services and will have access to YVR's largest Plaza Premium pay-per-use lounge. The Marshall Retail Group selected YVR for its first Canadian flagship operation and will operate four stores: Flight Stop, Marshall Rousso, Lick and Tumi. Other concession offerings include ICE Currency Exchange, Green Bean Café and Carl's Jr. Vino Volo and Famous Famiglia will open later in 2015.
YVR's award-winning sense of place is visible throughout the A-B Connector with a design that celebrates British Columbia's Interior. Architectural features evoke imagery from B.C.'s vineyards and orchards, fishing lodges and the Fraser River and Canyon. The space is anchored by the contemporary art piece, The Rivers Monument, by B.C. First Nations artist Marianne Nicolson.
In 2014 YVR was voted Best Airport in North America in the 2014 Skytrax World Airport Awards and the 9th Best Airport in the World - the only North American airport to receive such an accolade. YVR's commitment to safe and efficient airport operations, creating a compelling sense of place and caring for every customer has garnered these awards and is embedded in the design of the A-B Connector.
The expansion was built using funds collected from the Airport Improvement Fee, retail sales and airplane landing fees. The terminal areas remained open and operational during construction to ensure completion of the project in a practical and fiscally responsible way. The A-B Connector will be used primarily by WestJet, Central Mountain Air, Air North, Hawkair, Sunwing and Air Transat.

Story and photo courtesy of YVR