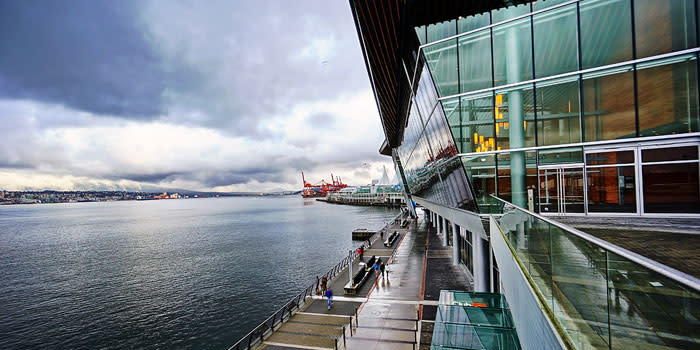 7:30 AM - 8:30 AM | Networking Breakfast
9:00 AM - 9:45 AM | Opening Session Keynote Speaker
10:15 AM - 11:15 AM | Breakout Session #1
11:30 AM - 12:30 PM | Open Exhibit Hall Hours
No matter what role you play in the industry, chances are the above program looks familiar. The afternoon schedule most likely looks the same, too. Throw in a couple of additional education sessions, a networking break and a VIP 5:00 PM cocktail reception, and voila! You have a full outline for the day.
There's one problem, though. Shuffling attendees from room to room doesn't always maximize the real potential of bringing hundreds or thousands of attendees together. While the outline can help meeting professionals keep the program on track, Claire Smith, Vice President, Sales & Marketing, Vancouver Convention Centre, believes this type of rigid scheduling fails to meet the learning and working habits of today's attendees.
"I think we have to let go of trying to control our delegates," Smith says. "Meetings tend to be overly structured.' We expect attendees to eat certain meals during certain times and sit in sessions at other times.The reality is that people are so busy and technologically connected to the office and home that this sense of control no longer works. We have to allow them to interact with the meeting in ways that will matter to them."
Inviting Work Responsibilities to the Meeting
Encouraging that interaction starts with designing the right environment. For a prime example of a conference that recognizes the value in giving attendees more control of the experience, consider the most recent TED conference, held at the Vancouver Convention Centre in March.
TED organizers know that, no matter how compelling the speakers on stage may be, members of their audience still have work to do. With a conference price tag that begins at $8,000, the registration list is full of people of influence who cannot forget about work for five days. To accommodate their busy schedules, TED organizers partnered with Steelcase to design a business office away from the office in an unused area of the second floor of the convention centre. From private spaces for conference calls to semi-private rooms for meeting and sales presentations, the conference environment included all of the ingredients for getting business done. Attendees were still part of the ideas unfolding on stage, too. All the content from the big room was broadcasted on screens in the temporary business hub.
"It was an innovative way of saying, 'It's okay to do work during a meeting,'" Smith says. "Instead of trying to figure out how to get them to shut off their phones and focus on what's happening in the theatre, TED delivered a more meaningful way for people to engage with the meeting and engage with each other."
Making Furniture More Flexible
Of course, TED is a unique gathering. Most conference attendee lists do not include Al Gore, Bill Gates and a range of other globally-recognized names. However, all attendees share the my-schedule, my-time, my-work mindset. Smith says that meeting professionals can accommodate that mindset by reevaluating their furniture selection.
"Think about the casual furniture selection in hotel lobbies and shopping malls," Smith says. "These places are using chairs and couches to create an environment where people want to hang out. We should use that same approach in our meetings."
There's a key adjective that should describe the furniture: lightweight.
"We see it time and time again: meeting professionals request furniture to be set up in specific arrangements, and attendees begin dragging the chairs and tables around to create their own room set or gathering places," Smith says. "These pieces need to be mobile to allow attendees to create places that encourage organic dialogue."
Instead of asking attendees to keep the furniture in an exact location, Smith suggests having adequate staff members in place to help them relocate it. In some cases, attendees won't even bother using furniture. Smith references her surprise when she saw the group at the 2011 International Congress on Industrial and Applied Mathematics. When she offered a prospective client a tour of the centre, Smith discovered hundreds of attendees sitting on the floor with their backs to each other.
"All the foyers were crowded with people looking antisocial," Smith says with a laugh. "That's when one of the leaders told me that this was their way of collaborating. Because their work requires so much intense concentration, sitting at round tables won't work. It's too distracting."
Smith's perspective applies across all types of groups. From CEOs at TED to genius mathematicians to the meeting professionals and suppliers who will be in Vancouver for PCMA's Convening Leaders 2016, attendees are going to arrive on-site, and they are not going to turn off the buzz of their devices or disconnect from their daily duties in order adjust to a program outline.
"Attendees are going to do what works for them," Smith says. "We need to embrace it and make our meetings support them rather than resist it."
This educational article was brought to you by Tourism Vancouver and the Vancouver Convention Centre, which offers 500,000 square feet of flexible space and an ideal downtown location. In January 2016, the brightest minds in meetings will come together in Vancouver for Convening Leaders. If you would like to discover more about what makes this city an ideal place for your attendees, click here to get in touch with the Vancouver team.
Haven't registered for Convening Leaders yet? To get a real sense of the magic of Vancouver, you have to see it in person. Click here to join your colleagues for four unforgettable days in the Pacific Northwest - and be sure to take advantage of these incredible opportunities during your trip.