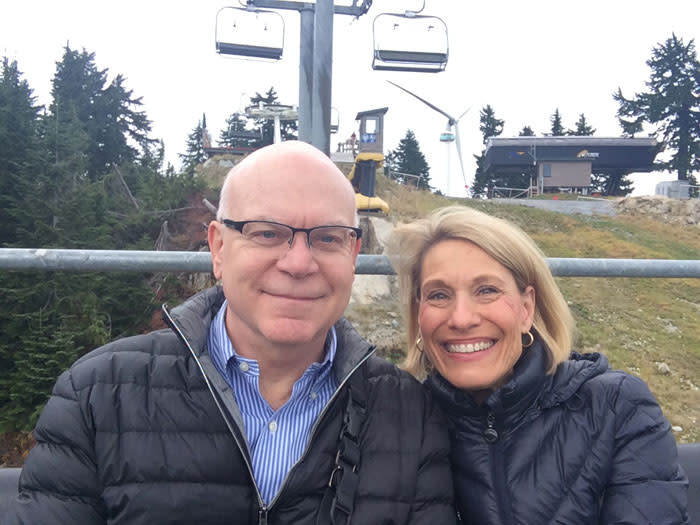 The following entry was submitted by Marilyn Jansen, Director, Marketing and Business Development, Association Management Centre. Marilyn was the lucky recipient of an all-expenses paid trip to Vancouver awarded at last year's Holiday Showcase event. Marilyn was selected as the lucky winner of this prize in exchange for her generous contribution to Tourism Vancouver's Diapier Drive. Marilyn visited Vancouver from October 16-21, 2015.
Thank you seems the best beginning - what a lovely trip! From the start of our adventure to the very end was simply wonderful and we tried to do it all! I think I will tell you all that we did, so you know that we REALLY had fun and appreciated the awesome experience pass!
The driver from Star Limo was so nice and he quickly whisked us to the Marriott after a long day on Friday (my group's annual meeting had ended that afternoon in Chicago, so I was ready for some fun.) The Marriott Staff was so kind and welcoming and due to both Bob's and my Marriott status, they placed us on the Club Level - a great start! Then we opened the gift bag and saw the Experience Pass, we realized that we had all of Vancouver right at our finger tips! Our adventure just went from good to GREAT! We slept fast and were ready for more fun...
I woke up very early on Saturday (thanks to my central time zone clock) and I was able to enjoy a leisurely cup of coffee (or 2) with a lovely breakfast, while watching the sun rise over the bay in the Club Lounge. The beautiful view of the mountains and clear blue skies were such a gift since rain was in the forecast for all the days of our stay. Since there was sun we were up and out early! First we headed to Grouse Mountain - we were there by 8:30, rubbing elbows with the Grouse Grind folks - that was not on our agenda (this time at least) but we were the first ones up the chair lift for a spectacular view at the Eye of the Wind - beautiful! We had a view of all there was to see and the company of a lovely woman that told us about all of the highlights! On our way back down, the bears totally entertained us; we were delighted to see them enjoy a salmon breakfast and a quick swim.
We then went to Capilano Suspension Bridge - Bob thinks that may have been his favorite adventure. We walked and walked until we were walked out - beautiful! We caught the free Capilano bus back to the city - by this time it was 3PM and the sun was still shining. I said forget lunch, can't enjoy sunshine in a restaurant - let's just eat a protein bar and rent bikes and ride Stanley Park! We rode the sea wall, along the convention area and into the city a bit - it was magnificent! We are bikers and this was pure magic! The people at Spokes were wonderful - they gave me a basket and a lock and we were in heaven! I could have ridden until the sun set - but the Cubs were playing so we had to hurry back to the Marriott for the game. Without lunch we were starving and had happy hour in the lobby bar where we met some Mets fans, watched the game and had a great time. We were pretty tired by this point but went to dinner at Dynasty which was recommended by the Marriott bartender and it was great! When we looked at the fit bit during dinner we had logged 19,258 steps and biking does not register on a fit bit so needless to say we had a very full and very excellent first day! I think the bike ride may have been my favorite activity!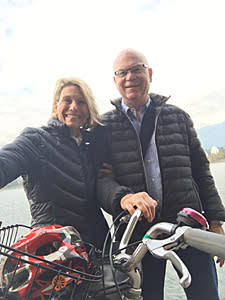 Sunday was a bit cloudy and gloomy; we were so delighted that we made the most of the sun on Saturday - and decided to make the most of inside things starting with the Vancouver Lookout, then to FlyOver Canada (incredible!), a horse-drawn carriage ride in Stanley Park (since our legs were tired from Saturday), a visit to the Roedde House Museum, a late lunch at Granville Island, and a brief ride back to the Marriott on the Hop-on, Hop-off bus. We got back to the Marriott to watch the next Cubs game and enjoyed ourselves in the Club Lounge. After those 2 jam-packed days we did not even go do dinner, and the snacks in the club lounge were all we needed. Well, the snacks and the box of chocolates you gave us in our welcome bag! Thank you.
Day 3 was cloudy and rainy so our decision to have the private city tour with A.E Vancouver was spot on! We had Matthew give us an in-depth view of Vancouver - it was great! At the end of the tour he got us a warm rosemary / salt bagel at the Market on Granville Island that I can still taste - delicious! By this time it was 1:30-2PM and the bagel had spoiled my appetite for lunch, so shopping was on the agenda! We went to the underground Mall and then to the small shops as well - Lovely! That night we went to Blue Water Café, a Matthew recommendation, which was incredible, followed by dessert at Bella Gelateria - another wonderful day!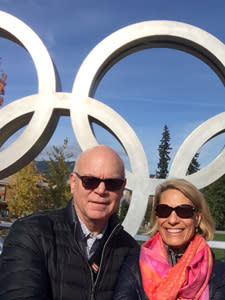 Our last day was spent in Whistler thanks to Westcoast Sightseeing. A beautiful and sunny day there and the perfect way to see such a wonderful place. We hiked Lost Lake and had lunch at Black's Pub right at the bottom of the Mountain. We shopped and then got back on the bus to see Shannon Falls - Lovely! For our final night we watched the cubs lose again, but this time at the Sheraton Club Lounge and then headed to Joe Fortes for our farewell dinner! Delicious.
With traffic heavy due to the morning rush hour we decided to take the Canada Line train to the airport; it was fast, clean, safe and very reasonable! United upgraded us to first class on the trip back - so all I can say is it was pretty much a perfect trip! Many thanks for your hospitality and for such fun memories! I tweeted and posted photos on Facebook hoping you could get some SM press!
Please let me know if there is anything else I can do for you or Tourism Vancouver.