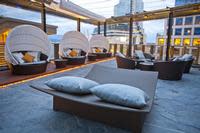 Any delegate knows that travelling for business can be stressful. There's the packing (how many extra dresses for cocktail hour? How do I cram in all my electronics, chargers and headsets?). Then there's the jam-packed schedule of meetings, power lunches, site tours, seminars, presentations, dinners, networking events (okay, those are kind of fun), more meetings the next morning... And through it all, you're living out of a suitcase. No wonder your shoulders are more tense than a circus acrobat's high-wire. So why not do your whole team a favour and mix business with pleasure by scheduling a few post-conference spa hours? Several venues in Vancouver are located in, or nearby, convention hotels, and provide full services for groups. And that means all it takes is one phone call for you and your team to hit nirvana.
CHI, The Spa. Located in the ultra-luxurious Shangri-La Hotel, CHI draws inspiration from the original Shangri-La - the mythical, Himalayan utopia described in the classic novel Lost Horizon - to create an environment of peace, enchantment and well-being. Luckily, this Shangri-La also comes with indulgent treatments (toxin release or sea therapy facial, anyone?), a smoothie bar, and a health club with sauna and steam room. Corporate groups often hold functions here (up to 25 people) with options to add amenities like light spa fare and cocktails.
Willow Stream Spa. A stone's throw from the Vancouver Convention Centre, Willow Stream Spa at the Fairmont Pacific Rim reflects the city's natural beauty and global influences with Zen-like rooms and lounges (think soft candlelight illuminating textured stone), meditation pods and a yoga studio, a spa terrace overlooking the serene harbour and city skyline, and a Vancouver-inspired list of treatments. The spa can accommodate up to 65 guests for a full day of treatments or a spot of tranquil team building. Catering available upon request.
Spa Utopia. Once again, a few strides from the Vancouver Convention Centre leads delegates to aesthetic ecstasy. Situated on the ground floor of the Pan Pacific Hotel Vancouver, Spa Utopia is a cave of delights with ornate chandeliers, Roman-style statues and plush furnishings - and that's just the lobby. Haggard convention-goers can revitalize with more than 30 treatment options, including a cozy VIP suite (hint: travelling spouses need pampering, too). The spa can run 31 treatments consecutively for large groups with the option to add catering or book the private boardroom (for those who can't tear themselves away from work).
Miraj Hammam Spa. Centuries ago, the Hammam was known as a "silent doctor" - an exotic journey toward cleansing and healing for the body and soul. Given the inevitable PowerPoint malfunctions, extra "networking cocktail" and overall lack of sleep, delegates can certainly use a holistic rebalance. At the recently renovated Miraj Hammam, small groups of up to six at one time can book the Hammam for a private steam exfoliation before succumbing to a series of traditional Middle Eastern treatments. The cherry on top? Lounging on silk cushions in the Sultana Lounge post-treatment while sipping tea and nibbling sweet cakes - just don't ask your boss to feed them to you.