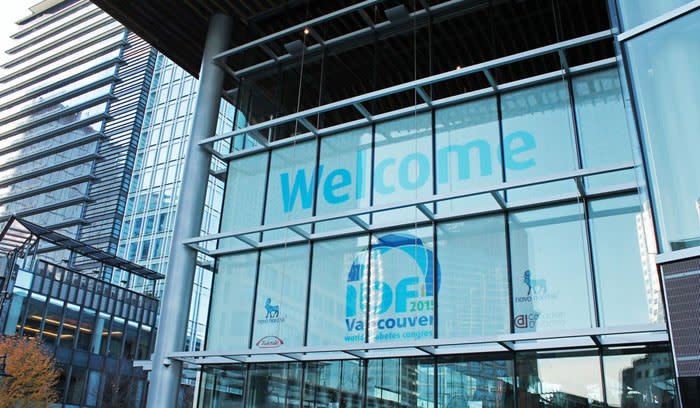 The Vancouver Convention Centre and Tourism Vancouver welcome 8,000 of the world's leading experts in diabetes care to the World Diabetes Congress (November 30 to December 4, 2015).
Canada has deep ties to diabetes. The use of insulin to treat type 1 diabetes was discovered by two Canadian medical researchers - Drs. Frederick Banting and Charles Best.
The Congress is organized by the International Diabetes Federation (IDF) in partnership with the Canadian Diabetes Association (CDA). The Congress is the premier global diabetes meeting and is bringing together over 8,000 delegates, more than 300 high-level speakers, and representatives from over 230 national diabetes associations in 170 countries and territories. This event is expected to contribute approximately $20 million in direct spending to the Vancouver economy.
Held every two years, the Congress brings the global diabetes community together, providing an essential forum for the dissemination and promotion of leading scientific advances and knowledge on practical aspects related to diabetes care, education and advocacy.
This global medical conference includes several ways the public can learn more about diabetes. On Thursday, December 3 at 6:30 p.m. the 5K@IDF Walk/Run event is taking place. This event is an integral part of the IDF Congress as it brings delegates and the public together to demonstrate how important physical activity is on the prevention and management of diabetes.
Participation in this event is free and open to members of the public. Runners and walkers can purchase a 5K@IDF shirt for $13.50 USD (plus processing fee). 100 per cent of the proceeds from shirt sales will directly benefit the International Diabetes Federation's Life for a Child Programme.
QUOTES:
Ken Cretney
President and CEO, BC Pavilion Corporation
We are extremely pleased to welcome the World Diabetes Congress and its delegates back to Canada. As Vancouver's reputation as an international meeting destination continues to grow and the excellent reputation of our local medical community increases we expect to attract an even greater number of global medical conventions.
Dr. Petra Wilson
CEO, International Diabetes Federation
The International Diabetes Federation (IDF), the global voice of people with diabetes, is delighted to bring the global diabetes community to Vancouver. We look forward to being inspired by four days of cutting-edge scientific sessions taking place in a world-class setting.
Dave Gazley
Vice President of Meeting & Convention Sales, Tourism Vancouver
The World Diabetes Congress is one of a number of major medical meetings that Vancouver has secured in recent years through targeted convention sales and marketing initiatives. Other meetings in 2015 included the World Congress of Dermatology and the International Aids Society Congress. Medical meetings are a very important part of Vancouver's convention industry.
About Vancouver Convention Centre
Located on Vancouver's downtown waterfront with a dramatic mountain backdrop, the world's first LEED® Platinum certified convention centre offers one of the most beautiful settings in the world. The award-winning Vancouver Convention Centre features two connected buildings with a combined total of 466,500 ft2 (43,340 m2) of flexible meeting, exhibition, ballroom and plenary space. The facility is committed to environmental sustainability as well as unparalleled service, technology offerings and culinary excellence.
About Tourism Vancouver
Tourism Vancouver's focus is on building exceptional customer relationships with meeting planners, travel influencers, travel media and independent tourists. The organization's brand essence is about "exceeding expectations."
About the International Diabetes Federation (IDF)
The International Diabetes Federation (IDF) is an umbrella organization of over 200 national diabetes associations in over 160 countries. It represents the interests of the growing number of people with diabetes and those at risk. The Federation has been leading the global diabetes community since 1950. IDF's mission is to promote diabetes care, prevention and a cure worldwide.