According to Destination British Columbia, almost half of the visitors to the province plan to spend some time shopping while they're here, making it the second favourite activity right behind sightseeing. So if you plan on doing a little damage to your credit card while you're in Vancouver, you're not alone! Lucky for you, the city's compact, walkable downtown core is home to a number of distinct shopping neighbourhoods that are fun to explore, and chock-full of finds to fill your suitcase with. And the Vancouver Convention Centre is in the middle of it all, making it easy to turn a two-hour between seminars into your own little retail therapy break-out session. Below are three of our favourite downtown shopping neighbourhoods, and all the info your need to plan your break, whether you're just browsing window displays, souvenir hunting for those at home, or picking up something special for yourself.
---
GASTOWN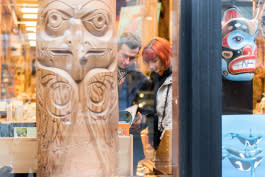 Vancouver's oldest neighbourhood, Gastown is also one of the city's coolest shopping haunts. The main stretches are along Water and Cordova Street, with the smaller side streets connecting them (such as Cambie, Abbott and Carrall) also offering hidden gems. You'll find plenty of traditional souvenirs stores – perfect for picking up a Canucks NHL jersey or some vacuum-sealed smoked salmon, as well as a number of respected First Nations galleries such as Coastal Peoples Fine Arts, where you can pick up museum-quality pieces of aboriginal artwork. If you're looking to treat yourself to a new outfit, the men's and women's boutiques in this area tend to specialize in "high-end casual," which basically means "fancy jeans." Or check out Gastown's hipster "lifestyle" stores that stock everything from fancy linens to lumberjack soap.
How to get there from VCC: Walk a block south to Cordova, and then just head east for a couple of blocks.
---
ROBSON & ALBERNI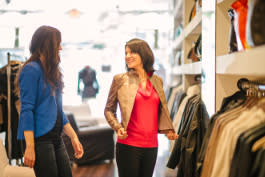 For a mix of exclusive designer labels and big name stores, set your shopping sights on Robson and Alberni streets, which quite literally have something for everyone. Downtown's main shopping precinct is centred around Robson Street, including the Pacific Centre mall at one end, and along the high-end Alberni Street district running parallel to Robson between Burrard and Bute streets. Hit the mall for all the well-known North American brands, along with three department stores:  the tony Holt Renfrew, high-end US import Nordstrom, and the Canadian classic, Hudson's Bay Company. Robson Street represents some of Canada's most expensive retail real estate and is home to the Vancouver flagship stores for many brands, making it just as appealing for the people watching as the window shopping. For some of the city's most exclusive shopping, head over one block to Alberni Street, which is home to some of the world's biggest luxury brands, including Tiffany, Prada, Louis Vuitton and Burberry.
How to get there from VCC: Walk south down Burrard Street for six blocks to reach the intersection with Robson Street.
---
YALETOWN
As Vancouver's original warehouse district, Yaletown retains some of that industrial character, with its old brick buildings now home to cafés, galleries and boutiques. The shopping district is quite compact, mainly falling within the four blocks bordered by Davie, Nelson, Homer and Mainland streets. The clothing stores in Yaletown offer a good mix of high-end international and Canadian brands in tightly-curated independent boutiques. It's also a great area to pick up a little something for your home, with some of Vancouver's best known galleries and homeware stores based here. The neighbourhood is home to a lot of Vancouverites, so you'll also find some excellent wine stores (pick up some BC wine to take home!) and gourmet grocers that stock locally-made products that make popular souvenirs.
How to get there from VCC: The quickest way to get there is to hop on the Canada Line from Waterfront Station, a block from VCC, and take the train two stops to Yaletown-Roundhouse Station. Or you could walk south along Burrard and then turn east on Nelson Street – a 25 minute walk.