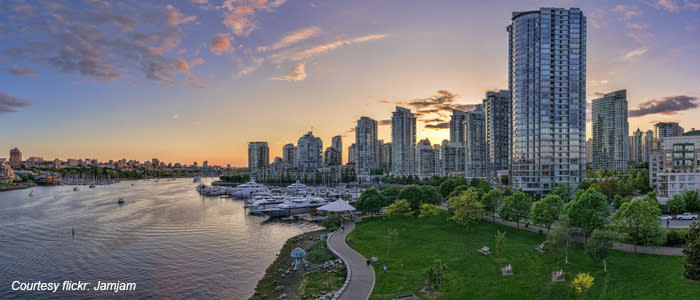 From guest contributor David McMillin, staff writer at PCMA

Earlier this year, I traveled to Vancouver to be part of the action in the city during TED2015. From hearing Monica Lewinsky's TED talk to taking a helicopter ride over Vancouver Harbour to sampling the best sablefish the North Pacific has to offer, the experience was one of the most memorable journeys I've taken during my career in the convention industry.

Now, I'm not telling you anything too surprising. It's no secret that once you're in Vancouver, the city is magical. In fact, it was recently named the best place to live in North America, and the list of accolades for visitors reinforces why Vancouver is a must-see destination for so many outsiders.

But how easy is it to really get there? In today's environment of customs lines and travel restrictions, what does the entry process really feel like at Vancouver International Airport (YVR)? One word: effortless.

My flight arrived around 12:30 PST. I found my place in the entry line, and around 20 minutes later, I was in a car on my way to downtown Vancouver. Getting back home is simple, too. With the new Automated Passport Control self-service kiosks at YVR, I didn't have to deal with the fuss of filling out declaration documents. The program is open to US passport holders and Canadian passport holders to make the border exchange more convenient.

I know there are plenty of destinations where the customs process can feel cumbersome, but Vancouver is not one of them. It's why plenty of US travelers are taking advantage of the opportunity to visit. In 2014 alone, 1.57 million US travelers made overnight visits to Vancouver, and in 2015, those numbers are on pace for impressive growth. A year-over-year comparison of overnight US visitors to British Colombia already reveals a 9.1 percent increase.

Coming To Canada For Convening Leaders

In January 2016, the customs line will feature a Who's Who of notable names in the convention industry when meeting professionals and suppliers flock to Vancouver for Convening Leaders. January may sound like a time in the distant future, but the big day will be here soon. As you prepare for the experience, here are three helpful tips to make your trip to Canada more convenient, more cost-effective and more fun.

1) Don't delay taking care of your passport details. While passport renewal processing times are currently only four - six weeks, I recommend taking care of it now if your passport is due to expire before Convening Leaders. You won't need to pay any fees for expedited service, and you won't stress while checking the mailbox everyday the week before you're supposed to leave. I just sent mine in earlier this month, complete with a photo that actually looks like me (my expiring passport included a photo of me at the age of 20). If you're renewing, all the info you need is HERE. It's easy, and most people can take care of the work online. If you're a first-time applicant, all the info you need is HERE - you will NOT be able to apply online.

2) Find the right international plan for your phone. You'll leave the office for Convening Leaders, but your work will unfortunately continue. To make sure you can stay in touch, I recommend comparing international mobile plans to estimate your communication expenses while out of the country. I use the AT&T Passport package, which includes unlimited messages and Wi-Fi access for $30. Talking still costs between $1.00 and $0.35 per minute, so I typically use FaceTime or Skype from my computer for video calls.

3) Plan to extend your stay. I know your schedule is busy. You have deadlines, client meetings and a range of bolded items on your calendar. However, use your trip to Vancouver as a reason to forget those worries for a few extra days. From an early morning hike in Stanley Park to late-night cocktails at any of the hotspots in Gastown, Vancouver exudes an energy unlike any city I've visited in the United States. If you can arrive early for Convening Leaders, I recommend living like a true Canadian: go watch the Vancouver Canucks play the Tampa Bay Lighting on Saturday, January 9.

If you have any questions about traveling from the US to Canada for Convening Leaders, I'm happy to help answer. Send me a note at dmcmillin@pcma.org.

Interested in learning more about the ins and outs of taking your own group to Canada? Check out this article to hear the first-hand perspective of a US-based planner's first time planning a meeting north of the border.