Vancouver's skyline is dominated by our local mountain peaks. But they're more than just a beautiful backdrop for your meeting… they could be your venue! And the city's alpine destinations have a lot to recommend them to meeting planners; not only do they hold a plenty of appeal for your attendees (Wait, we get to have our meeting on the mountain?), but these facilities offer unique event spaces and team-building opportunities that sweeten the deal for meetings professionals well beyond the beautiful views. Here are some of our favourite local mountain meeting choices: one on the North Shore, one on a university campus, and one on the way up to Whistler.
---
GROUSE MOUNTAIN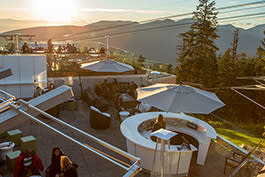 From your downtown hotel, you can look over to the North Shore mountains and see Grouse Mountain. In fact, it's just a 20-minute drive from the city centre, and after you take the Skyride up to the chalet, you'll find a wide range of options for your meetings: from the Theatre in the Sky, through to meeting rooms, a traditional First Nations longhouse, and a full alpine chalet that can be bought out. In the summer, Grouse has a great outdoors, Canadiana feeling with trails, lakes, and wildlife to explore – think barbecuing on a sunny plaza with a view of the city beyond. In the winter, it's a snowy wonderland that brings a cozy alpine cabin feel to events.
Capacity for Events: 800 for reception, 550 for plated dining, 1,000+ for events that use outdoor space
Capacity for Meetings: up to 100 theatre-style
Why Grouse: "We get the opportunity to be really creative when it comes to events because we have a whole mountain to play with. Our facilities can accommodate groups over 1,000 and we have a wide variety of programming in both winter and summer that we can incorporate for that special 'only here' experience. We can even provide a private full mountain experience for a client if they want... now that's unique!" – Kirsten Heal, Manager of Sales, Grouse Mountain
---
SEA TO SKY GONDOLA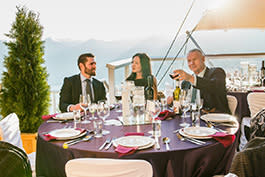 Located on the edge of Squamish by Howe Sound, the Sea to Sky Gondola is just a 45-minute drive north towards Whistler, but you and your group will feel so much further away! This is a great choice for groups that really want get away from the distractions of the city, and surround themselves with nature. Once your group is up there, it's only the jaw-dropping views of the rugged coastline that you'll have to contend with for their attention. The main space here is the West Coast-inspired Summit Lodge, but the decks and plaza around the building can also be put to great use with groups. The team can also arrange activities for your group, from outdoors yoga breaks through to climbing their Via Ferrata route.
Capacity for Events: 500 for reception, 250 for plated dining, 800+ for events that use outdoor space
Capacity for Meetings: up to 150 theatre-style
Why the Sea To Sky Gondola: "We are uniquely situated in Squamish to provide access to a variety of outdoor adventures.  In May of 2015, we hosted a team of 120 from Polygon homes who were here for their annual team outing.  The gondola served as their basecamp with breakfast upon arrival, and then everyone departed for their activity of choice – fly fishing, hiking, mountain biking, rock climbing, horseback riding, rafting etc.  They reconvened at the gondola at the end of the day for a cocktail reception and dinner, followed by guest speaker and team awards.  It really was a remarkable day." – Anne MacKenzie, Sales Manager, Sea To Sky Gondola
---
SIMON FRASER UNIVERSITY – BURNABY CAMPUS
At first glance, you might not classify this as a "mountain venue" but in fact, this campus of Simon Fraser University's is right on top of Burnaby Mountain. It combines the spectacular views of its high-altitude location with the full slate of facilities that you would anticipate at a university. About a 30-minute drive east of downtown Vancouver, meeting planners will find everything from the classrooms and theatres they expect, through to flexible plazas for ceremonies and concerts, on-campus pubs and dining spaces, and even accommodation. 
Capacity for Events: 250 for reception, 200 for plated dining, 800 for events that use outdoor space
Capacity for Meetings: up to 500 theatre-style inside, or 2,500 theatre-style outdoors
Why SFU Burnaby: "There's really a very wide range of events and meetings we can host here! For instance, a few years ago, the Mind Over Mountain Adventure Race (MOMAR) ran the trails surrounding Simon Fraser University's Burnaby Mountain campus.  At the end of the race the university's open air Convocation Mall plaza was transformed into a 300-person banquet space with a hot buffet, balloons and live entertainment for the gala dinner and awards ceremony.  An awesome after-party was held in the close by Simon Fraser Student Society Highland Pub." – Jessica Jutras, Associate Director, Meeting, Event and Conference Services, Simon Fraser University Burnaby Campus