This educational article is brought to you by Savoury Chef Foods, a Tourism Vancouver member.
Just Right! Destination Management is an American event management company that offers full-service planning for events nationwide. We recently helped them with a client who holds an annual event with their top product users in different locations around North America. This year their client found (and loved!) the UBC Boathouse and wanted to make the event as West Coast-themed as possible.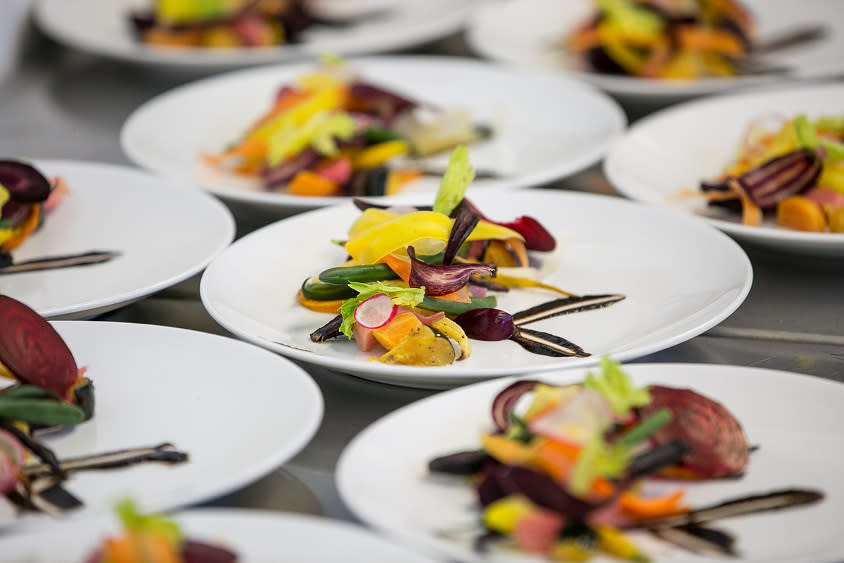 Of course, many challenges arise when dealing with clients across the continent. Initial planning required lots of photos and phone calls back and forth to ensure that the end client got what they wanted. Also, with the group flying in from Vancouver Harbour Air, our timeline needed to be flexible enough to accommodate any last-minute changes in flight times. Needless to say, communication was key to keeping up with contacts from the venue and separate vendors, as well as the day-of contacts for the clients and hired band.
The venue also posed its own set of obstacles. While beautiful, the space was almost too large for the small 30-person dinner. Working with a tight budget for decor, we had to take extra care when it came to filling the room. In that regard, working with the Inukshuk as the theme was the perfect solution!
Like the immense rock sculptures themselves, we took advantage of rented 6 foot and 4 foot tall Inukshuks, oversized tables and fabrics to balance things out. Placing the bar inside, we dotted the remaining area with high top tables, capitalizing on the large windows to showcase the view. We also set topiaries and cedar plinths away from the walls to bring in the sides of the room and create a stage-like setting.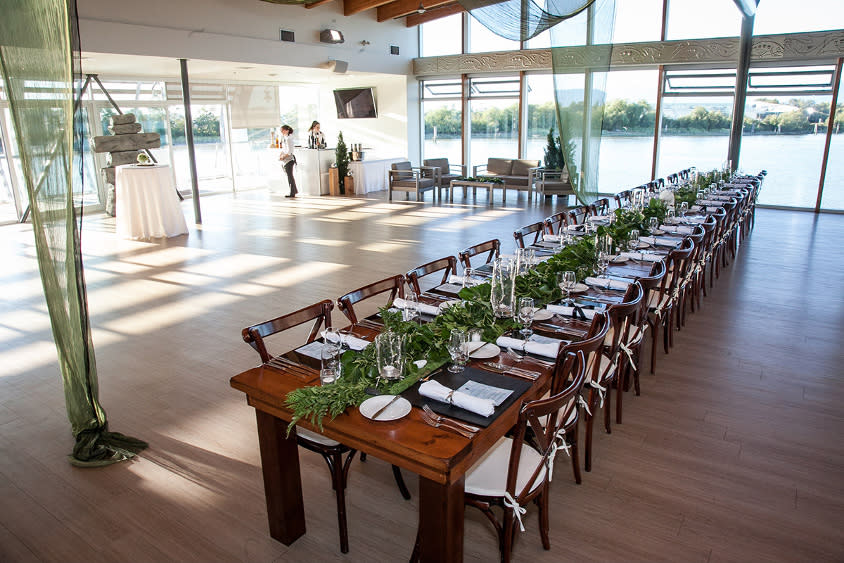 Ultimately, the feedback we received was amazing and the client testimony speaks for itself:
"I work for an event planning company based in Orlando that travels anywhere my clients go around North America. Sometimes it can be difficult to work long distance, especially in another country. Adele and Kyle at Savoury Chef made planning a huge VIP gala a breeze. Anytime we hit a speed bump, they immediately helped me remedy the situation. Whenever I needed to do a call or sent out an email, I received a correspondence right away. They helped not just provide absolutely amazing catering, but delivered an entire vision with decor and top notch staff. I have never worked with a more accommodating caterer before! The next time I have another program in the Vancouver area, I will without a doubt be calling Savoury Chefs again." - Kelly Robinson, Event Manager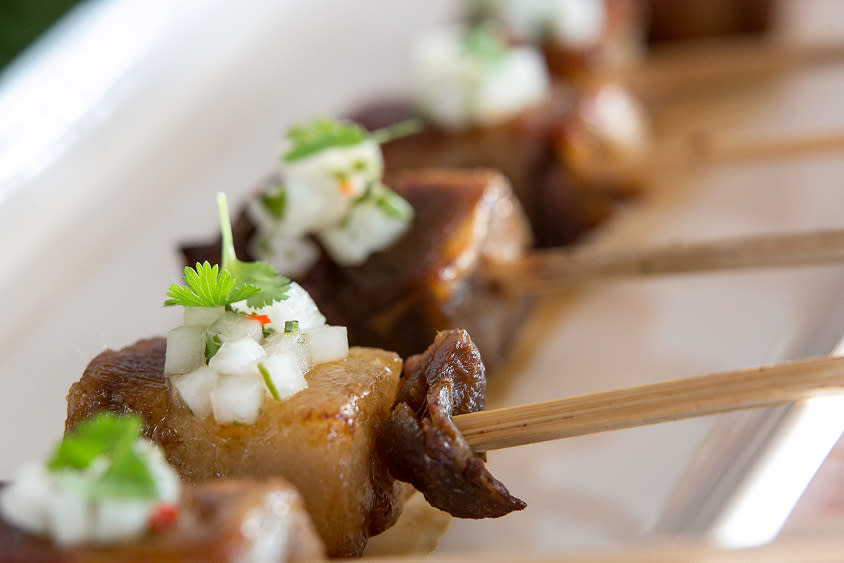 During the event guests were visibly thrilled, taking multiple pictures and sharing them on social media. One guest even had to see about charging his phone because he said it was "blowing up with comments" about how gorgeous everything was! Being so far from Vancouver on the night, Just Right! had their own representative keeping them up to date with photos and texts. All of those were positive too! In fact, the on-site contact said that if they used us in the future, they wouldn't need to hire her at all because they could trust us to do a good job.
While every event has its challenges (and we had our fair share!) working closely with the client and delivering the best experience for everyone involved has always been our priority. At Savoury Chef Foods, we understand that so much more goes into an event than just the food and we're happy to assist with everything from venue rentals and bookings, to equipment and staffing.
Click here to request a quote or learn more at savourychef.com!

*All photos by Mark Kinskofer of Vision Event Photography