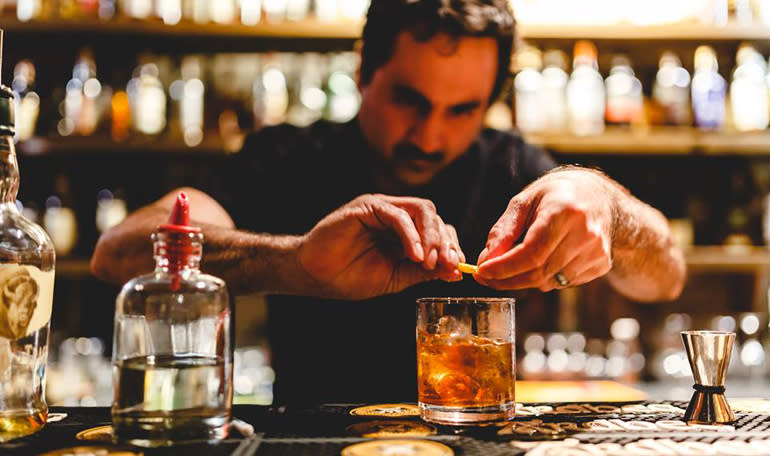 One of the best attributes of Vancouver's outdoor playground is that you don't have to dish out dollars to soak in the spectacular scenery. Many of Vancouverites' favourite pastimes - wandering lush Stanley Park, cycling the Instagram-ready seawall and poking into Granville Island's quirky shops - require no investment, though these must-do's are all fairly familiar. But if you dig a little deeper, you'll uncover a lesser-known treasure trove of free, or nearly free, experiences ranging from whisky tastings to internationally acclaimed art exhibitions. Put that wallet back in your pocket and join us as we explore the city, gratis.

Urban Grind at Harbour Centre. Keen for a grueling trek sans spring showers? This March, locals and visitors can get their hearts racing with an upward trek up Harbour Centre's Urban Grind. After scaling the staircase leading up to the Vancouver Lookout, climbers are rewarded at the "summit" with panoramic views of downtown, the North Shore and the Olympic Peninsula. Climbers can choose to amp up their workout by completing the route multiple times during the specified time period - and all for the cost of a cup of coffee. The Urban Grind is open every Tuesday in March from 4 to 6.30 pm. Entry fee is $5, though climbers also receive a $5 voucher for the Harbour Centre food court.

Whisky Wisemen at Shebeen Whisky House. Despite their deliciousness, cocktails are one of the fastest ways to say sayonara to your greenbacks. But what if those dollars went to a charitable cause? The Whisky Wisemen Society, a local nonprofit, has teamed up with Shebeen Whisky House to raise money for deserving causes by hosting monthly #socialwhisky events. Drop by Shebeen on the third Thursday of every month for a free welcome whisky, then stick around for a couple more - 10 percent of every drink thereafter will be donated to a Vancouver-based charity.

Get happy at the Museum of Vancouver - by donation. How happy are you? Find out when the MOV hosts the internationally acclaimed The Happy Show, April 22 to September 7. The debut exhibition by renowned designer Stefan Sagmeister - whose client roster includes The Rolling Stones and Levi's - investigates that most intriguing and elusive of emotions via infographics, psychological data, sculptures, videos and interactive installations. Drop by the MOV on the last Thursday evening of every month when entry is by donation.

Artisanal samples at Edible Canada. Three or four times per month, Edible Canada's retail store on Granville Island invites passersby to sample featured vendors' sumptuous fare. The store stocks Canadian-made culinary delights, and these frequent tastings are the best way to expand your palate. In early February, for example, Edible Canada will highlight Kitchening & Co.'s gluten-free goodies, including ginger chocolate and peanut butter cookies. Afterward, stop in at Granville Island Brewing for craft beer samples or sake flights at the Artisan Sake Maker for just $2 each.