The following article was originally published by the Vancouver Convention Centre and was written by guest contributors: Ryan Sheeley (Account Manager, Riggit Services Inc.) and Adam Radziminski (Director, Events, Vancouver Convention Centre)
At a certain point in the planning process, an event planner will be asked by the venue, "Do you have any rigging"? As most events do in fact hang items, from simple banners through to complex production set-ups, the event planner will be directed to the in-house provider of rigging services. So, what does the planner need to know before talking to the rigging team?
1. What is rigging and what can be rigged?
Rigging is the safe, overhead hanging of equipment or materials completed by qualified and trained professionals (riggers) following approved rigging plans.
Look up and see that just about anything can be rigged at an event:
Audio visual production: from screens, projectors, lights and speakers, all the way up to a full concert set-up
Banners and signage: sponsor, promotional, wayfinding and branding
Décor: drapery, chandeliers and light balloons
Electrical and production cables
Aerial entertainers
Boats – yes, even boats and other heavy equipment can be suspended from the ceiling!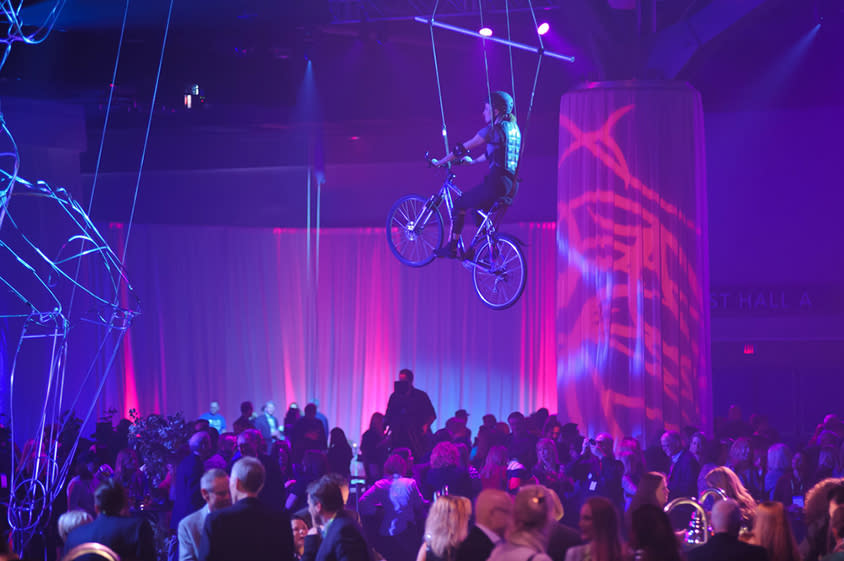 2. When does an event need rigging?
It all depends on the scale of the event. A small event using one meeting room may only require ground-supported lights and a screen and projector. However, a larger show with a bigger stage flanked by screens and a larger production will need a place for stage lights and projectors – typically with truss lines above and in front of the stage to hang equipment from.
It is important to know that ground-supported lighting towers and projectors (front or rear) take up valuable floor space. If maximizing the full capacity of the room is a priority, getting the equipment into the air is a must.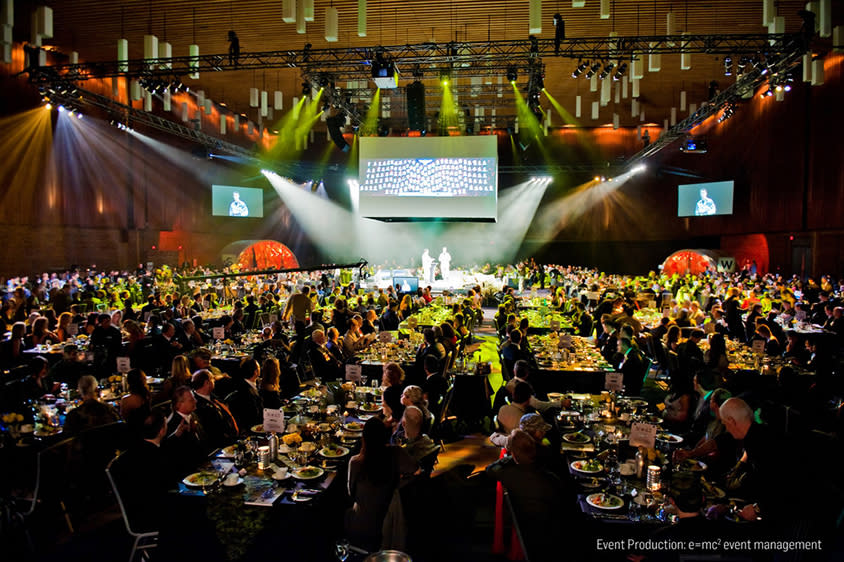 3. Why is it so complicated?
From an attendee's perspective, a chandelier or a boat hung from the ceiling will look effortless, but the process to get them rigged safely and professionally is more complicated.
Rigging services will ask an event planner many questions: what are the size and weight of the item; where would you like it rigged; when do you want it installed and dismantled, etc. All of these details help to develop a rigging plan to ensure items are installed in a safe manner to existing rigging points that optimize space and visibility. Other logistical considerations, such as the availability of floor space to lay out the items and move lifts around, are also important.
Remember physics class? The specialized and highly-trained riggers certainly do, and use concepts such as dynamic weights, gravity and forces. The swaying 150 pound aerialist actually puts a lot more force on rigging points than just their weight. A bolt dropped from six feet will stub a toe, but when dropped from 60 feet up it becomes dangerous.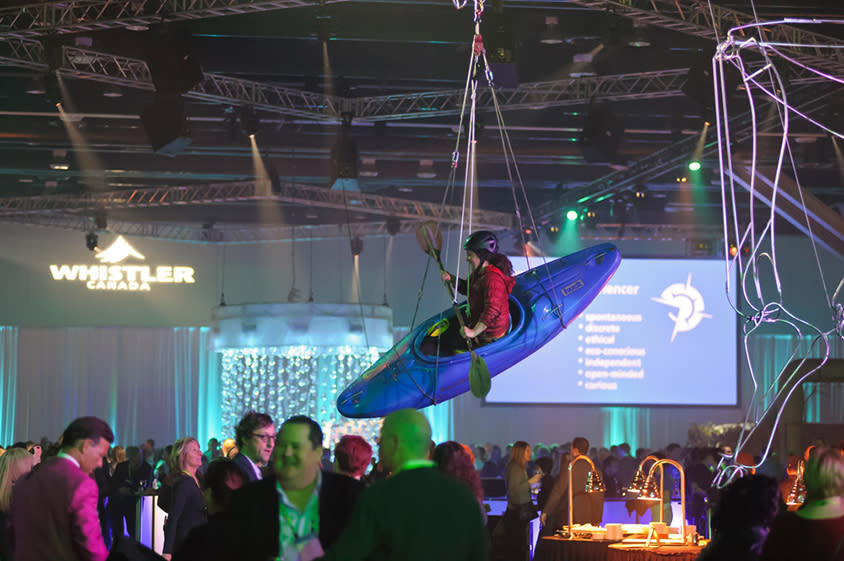 4. What is the value of rigging?
Beyond maximizing meeting room space and hanging items in a safe manner, there is a professional quality to having rigging for Audio Visual production and lighting. A rigged set-up can give a polished look to an event and help project the desired image for an organization and event. It creates a "wow" factor for attendees who get to experience the event from different perspectives – not only in front and around them, but also from up above.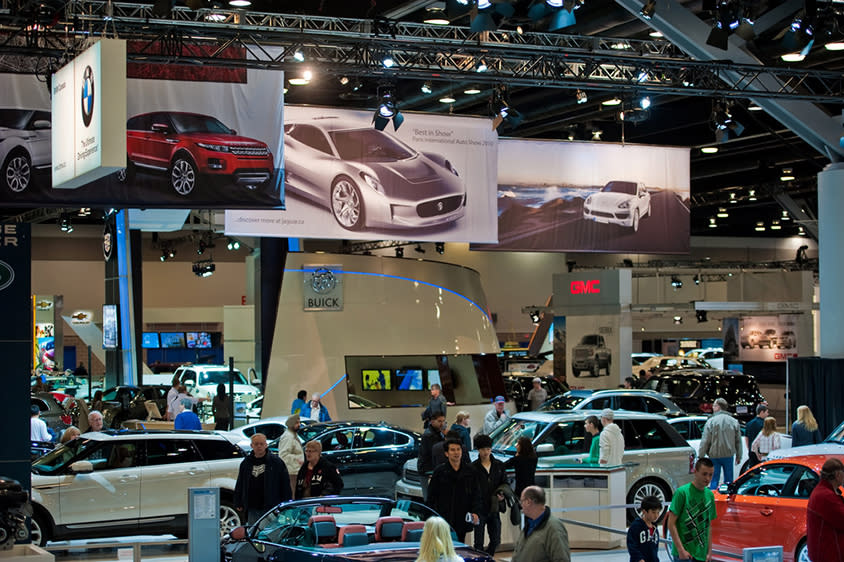 5. How to keep rigging costs down?
Rigging can be very cost-effective. There are many options to design a rigging set-up that could keep costs low if this is a primary concern. While equipment can be relatively inexpensive, it is the specialized labour and meticulous planning required that can often account for 50% or more of the overall cost. The results of this planning and expertise can be spectacular. The key is to consult with the rigging providers early on in the planning process to develop a plan based on event requirements, overall vision and budget.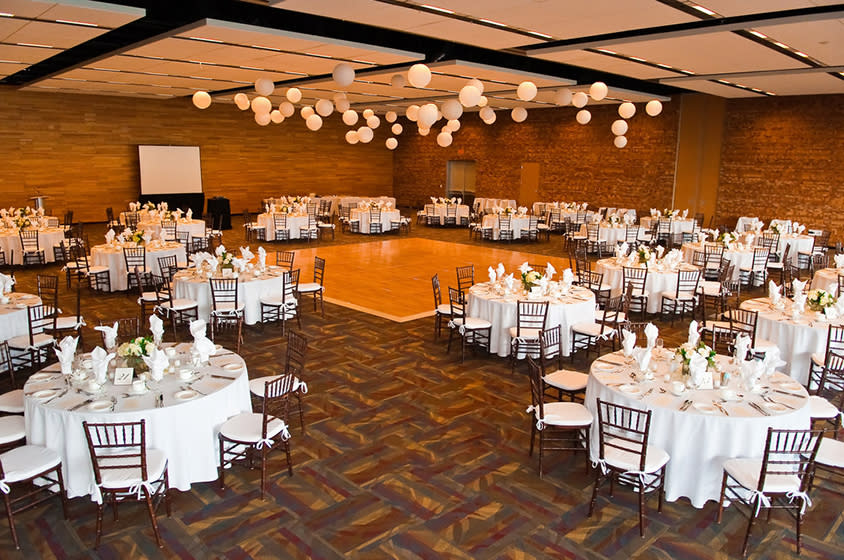 So don't wait for your venue to ask you about rigging. Ask your representative from the venue, "we are planning to rig items, and I'd like to work with your rigging services team now to come up with a plan!"
*Riggit Services Inc. is the Vancouver Convention Centre's exclusive supplier of rigging services and the official supplier of specialty lighting services.