Downtown Vancouver's ever-changing skyline will evolve once again when the city's newest entertainment destination, Parq Vancouver, opens its doors on Friday, September 29, 2017. A celebratory roll of the dice on the casino floor will mark the occasion at 11 p.m. PST. 
 
Built to meet LEED Gold environmental standards, Parq Vancouver is the largest private development in British Columbia, delivering everything in one stunning space; including two world-class luxury hotels, a coveted culinary lineup, a new standard in convention hospitality, state-of-the-art gaming, and a transformative outdoor experience that is unique to Vancouver and uniquely Vancouver. 
 
From its second-floor entrance at Gate G of BC Place, to its floor-to-ceiling windows and curated art collection, Parq Vancouver connects in every way to the dynamic culture and energy of the city. The Park, a stunning sixth-floor 30,000-square-foot outdoor space and the resort's crown jewel, features more than 200 native pines and pays homage to the natural beauty of British Columbia. Marking an introduction to Western Canada and bridged by The Park and all of the resort's amenities, Parq Vancouver features JW Marriott Parq Vancouver and the DOUGLAS, an Autograph Collection Hotel. 
 
With a lobby featuring a full-sized replica Douglas fir encased in glass, the DOUGLAS represents a balanced dialogue of nature and city. The DOUGLAS joins the diverse and dynamic portfolio of more than 100 Autograph Collection Hotels around the world that are independent and one of a kind Its 178 rooms and 10 suites, designed by Vincent Celano and created by Rob Wells, are located between the seventh and 17th floors, and are designed for the experiential traveler.  
 
Parq Vancouver's luxury status is further elevated by the region's first JW Marriott. Designed by Toronto-based Studio Munge and boasting 281 rooms and 48 suites located between the sixth and 25th floors – as well as Canada's first Spa by JW – the JW Marriott Parq Vancouver delivers sophisticated design, intuitive service, and thoughtfully crafted enriching experiences. 
 
James Beard Award-nominated duo comprised of restaurateur Elizabeth Blau and Canadian Chef Kim Canteenwalla of Blau + Associates will debut eight distinctive restaurants and lounges at Parq Vancouver, introducing new flavour to downtown's flourishing culinary scene. The food and beverage portfolio draws inspiration from the cuisines of the Pacific Northwest, as well as the pair's international travels and discoveries.  
 
With more than 60,000 square feet of well-appointed, fully accessible and flexible space, Parq Vancouver redefines the meeting and convention experience, offering 13 ballrooms, boardrooms, and meeting rooms, including the 15,604-square-foot Parq Grand Ballroom, the largest hotel ballroom in the city.  
 
The second and third floor gaming levels – bathed in natural light by floor-to-ceiling windows – feature 600 slot machines, 75 table games, a poker room, and 11 exclusive salons for a private gaming experience.    
Guests will be able to book their stays at JW Marriott Parq Vancouver and the DOUGLAS by visiting parqvancouver.com. 
 
ABOUT PARQ VANCOUVER Fresh on the scene as a leading international entertainment destination, Parq is at the heart of downtown Vancouver's energetic entertainment district. Built to meet LEED Gold Standards, Parq Vancouver's dynamic offerings include two luxury and lifestyle hotels within one complex, Western Canada's first JW Marriott Hotel and a first-to-market Autograph Collection Hotel, the DOUGLAS. Parq Vancouver offers locals and guests instant access to a wide range of amenities, including 72,000 square feet of world-class casino space spanning across two floors and featuring 11 private gaming salons, a 30,000 square-foot rooftop park, more than 60,000 square feet of well-appointed, flexible meeting and event space, and eight chef-driven restaurants and lounges from the world's foremost international restaurant developers and James Beard Award nominees restaurateur Elizabeth Blau, and her Canadian husband, award-winning Chef Kim Canteenwalla. For more information or reservations, please visit parqvancouver.com.  
 
Marriott Media Contact Samantha Gear Avenue PR sam@avenuepr.ca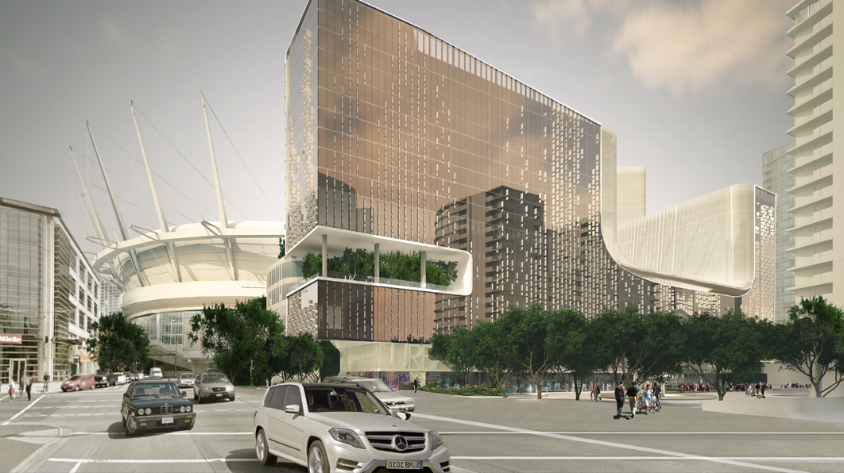 You can explore Vancouver's stunning meeting facility options here and modern downtown convention hotels here.