As mentally stimulating as your meeting might be, a few hours sitting in a conference room in the same position can easily leave you craving a dose of physical activity: fresh air in your lungs, a good stretch, blood pumping through your veins, or all three. Well, we completely understand, which is why we've compiled this list of ideas for getting active during your meeting break! With the Vancouver Convention Centre sitting right on the waterfront sea wall, even a spare 15 minutes between sessions can be turned into a rejuvenating respite for both the mind and body.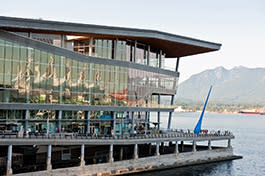 EXPLORE ON TWO FEET
Time Needed: 15 minutes
Head down the VCC's escalator and you'll be deposited pretty much right on Vancouver's renowned sea wall path. With 15 minutes you can stroll around the building taking in the views of the water and mountains. An hour to wander will take you past Coal Harbour and the float planes taking off and landing, and into Stanley Park as far as Brockton Point before you'll need to turn back. But if you're prepared to lace up your sneakers, you'll get to explore even further into the park (one of the city's favourite running routes) and explore some of the rainforest trails that criss-cross the area.
---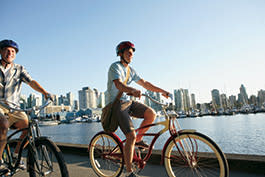 PEDAL A PATHWAY
Time Needed: 1 hour
Within the VCC building and on the surrounding blocks, you'll find plenty of places to rent a bicycle for an hour or two. Cycling Vancouver's sea wall is an excellent way to see the city in a short amount of time. Head north from the VCC into Stanley Park - to do the full loop and get back will take about two-hours with time for a couple of stops built in. Since the bike path is one-way once you enter the park, if you have less time, consider cutting across the park and checking out English Bay before making your way back. If you prefer eight wheels instead of two, you'll find many of the bike shops also rent inline skates.
---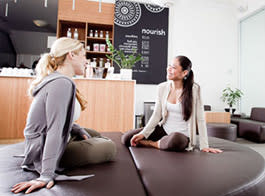 STRIKE A POSE
Time Needed: 2 hours
If you're the type that travels with your yoga mat, you'll find plenty of quiet, green spaces along the sea wall between VCC and Stanley Park for you to roll it out and get in a short practice between seminars. But with 1,500 yoga classes offered each week in Vancouver, those looking for a session to join will have no problem finding one! Most classes clock in between 1 hour and 90 minutes, with popular studios such as YYoga's Downtown Flow location and One Yoga for the People a 15-minute walk from VCC. So with two hours and a little organization, you can find your moment of Zen in between your moments of professional enlightenment. BONUS: In past years there has been free yoga every Wednesday afternoon at Jack Poole Plaza at the Vancouver Convention Centre.
---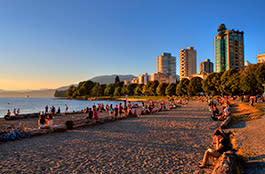 TAKE A DIP
Time Needed: 2 hours
If taking the plunge and swimming some laps is your favourite way to revive, you've got plenty of options in downtown Vancouver - even if your hotel doesn't have a pool. In the summer, head over to English Bay (a 10-minute taxi ride from the VCC) and splash out into the water with the locals. Or grab your swimming togs and visit Second Beach Pool (also about 10 minutes by taxi) – a busy heated, outdoor facility at the entrance to Stanley Park, overlooking the water. If you're visiting Vancouver during cooler months, the Vancouver Aquatic Centre is a public, indoor facility directly across the downtown peninsula from the VCC (a 10-minute drive away) and is open year-round.
---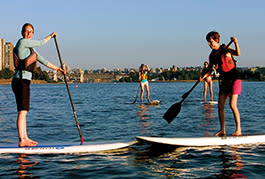 SEE WHAT'S SUP
Time Needed: 3 hours
Whether you're an expert stand-up paddle boarder or a complete beginner, three hours is all you need to get out there on the water. Head to English Bay (10 minutes by taxi from VCC) and check in with Ecomarine Paddlesports Centres to either rent your own board or take a lesson. Because your timing is probably quite tight, you'll need to book one of their two-hour lessons in advance, but once you're out there in the middle of the bay, it's tranquil in a way that's hard to beat. If you prefer to sit down while you're paddling, note that Ecomarine also rents out ocean kayaks.