We sat down with Bob Warnock, Director of Event Logistics Services at Davidson & Sons Customs Brokers Ltd, a member and valued partner of Tourism Vancouver. Formerly with the Canadian Border Services Agency, Bob has a wealth of knowledge about event logistics and has shared the answers to some of our meeting planner clients' most frequently asked questions.

Q: Tell us a bit about your former career at the Canada Border Services Agency (CBSA), and your current role at Davidson & Sons Customs Brokers Ltd?
A: My career with CBSA started as a border officer back in 1980 but it wasn't until I worked as the Regional Coordinator for the Convention Services Program (CSP) did I feel that I found my place. This position allowed me to educate the Meetings, Conventions & Incentive Travel (MC&IT) Industry taking the mystery out of Canada's immigration visitor admissibility and customs importation requirements. Helping foreign sponsors and event organizers during the planning stages by making it easy to host their foreign event in Canada was so rewarding to me.      

After retiring from the CBSA in 2015, I took the position of Director of Events Logistics with Davidson & Sons Customs Brokers Ltd  (D&S) so I can continue to provide service and apply my customs and immigration experience to further enhance the excellent customs brokerage services. Being part of the D&S team makes good business sense for the MC&IT Industry and stakeholders as D&S also has an Entertainment and Film Production and a Meetings Conventions & Tradeshow division.          

Q: What's your best advice for sponsors hosting foreign events across the border for the first time?
A: My best piece of advice for foreign sponsors and organizers would be to hire the services of a customs broker like Davidson and Sons who have experience with Canada's immigration, customs and tax programs for foreign conventions hosted in Canada. The customs broker ensures your event materials arrive at the event on time and provide important process information during the planning stages to ensure a positive border experience and a successful event in Canada.              

Q: Why should you get your event, meeting or conference "recognized" with the Canada Border Services Agency's (CBSA) - Convention Services Program (CSP) and Citizenship and Immigration Canada's (CIC) - Special Events Unit?
A: I enjoy telling event sponsors and organizers that Canada is the only country with programs where people and their event materials who are coming for an event are streamlined through the border entry process. When an event is officially "recognized" with CBSA's Convention Services Program and  "registered" with CIC's Special Events Unit, sponsors, exhibitors and event registrants can benefit by: duty & tax free entry of event materials, expedited visa processing, and seamless border experience.        

Q: Can you tell us about the Foreign Convention Tour Incentive Program (FCTIP) Rebate?
A: This program is great news for any foreign sponsor or non-resident organizer who is considering hosting their next events in Canada as it rebates the Goods and Services Tax (GST) paid on convention facilities and related convention supplies. Everyone likes to get money back as it helps to balance the event budget. In order to be eligible for the program rebate your event must qualify as a foreign convention. It is eligible if:
the sponsor expects at least 75% of the total admissions will be supplied to non-residents of Canada.
the sponsor is an organization where the head office is outside Canada, or if organization has no head office, the majority of members are non-residents.
​Some of the expenses that are eligible for the rebate are:
convention facilities.
50% of the tax paid for food, beverages, or items purchased under a contract for catering.
related convention supplies (e.g. accommodation, audio-visual, convention materials, show services, professional services).
​To apply for the rebate, the sponsor or organizer must send a completed Rebate Application for Conventions form within one year after the conclusion of the event.

Q: Let's talk about work permits related to foreign events. Who needs one?
A: The topic of work permits continues to frustrate and confuse foreign event sponsors and organizers as they get mixed messages from people in the industry. To clear up any misunderstanding of when a work permit is required, I have taken sections of Citizenship and Immigration Canada's guidelines below as it relates to a foreign event in Canada. It states: when a foreign event sponsor or organizer contracts a foreign service provider to come as supervisory personnel only and work under contract at the foreign event, they will require work permits. Work permits for this purpose do not require a Labour Market Impact Assessment (LMIA) as long as the supervisors will be directing local hires.

A work permit (that can be applied for at the time of arrival at the port of entry for $155.00 CAD) is required.

Q: What's the craziest thing anyone has tried to bring across the border?
A: When Disney was promoting the "Finding Nemo" movie they contacted me wanting to know what they needed to do to bring a submarine into Canada. I was wondering how this submarine was going to enter Canada and they told me that they were going to drive it up from California as it was on wheels. It was quite something to see a submarine shaped vehicle painted with the finding Nemo characters cruise up to the border. No worries, they declared they had no torpedoes on board.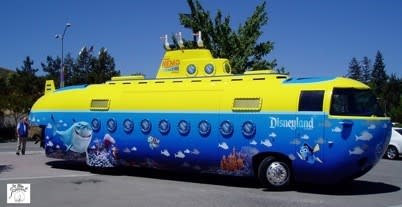 Look out for more blog posts from Bob Warnock in the future!