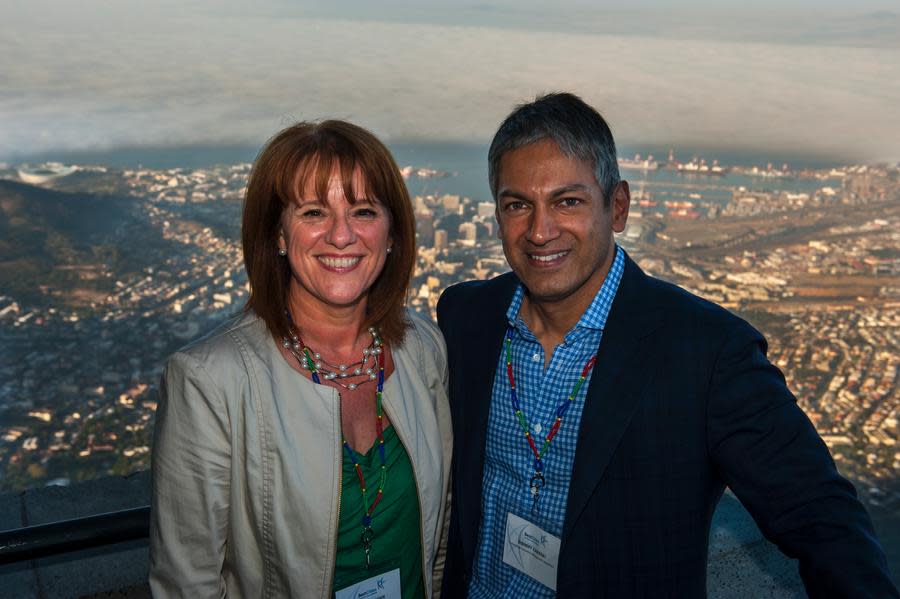 BestCities Global Alliance and Professional Convention Management Association (PCMA) chose a meeting on top of Cape Town's iconic Table Mountain to announce a landmark agreement that will see the first global alliance/trade association partnership of its kind take effect from 1 January 2015.

With PCMA's mission to deliver superior education and BestCities' world renowned network of convention bureaux and destinations, the two industry leaders are set to make a formidable team.

"The signing of this strategic agreement with PCMA is significant for BestCities as it comes at a time when we are embarking on our next five year plan (2015-2019) with a clear consensus that our customers are at the forefront of everything we do," says BestCities Board Chair, Karen Bolinger.

"Our aim is to seek new markets, expand our portfolio of business development activities and form new partnerships that provide tangible benefits for both our partners and clients whilst continually growing our brand awareness.

"Becoming a PCMA partner means having a vested interest in strengthening, supporting and educating the industry and BestCities' own mission to deliver the world's best service experience for the meetings industry aligns perfectly with PCMA's core values," said Ms Bolinger.

"The partnership between our two organisations embodies the synergy not only in our individual business development strategies but also our shared commitment to our customers, partners and industry.

This assurance is shared across all ten Alliance partners who uphold, and are accountable for, the standards under the BestCities' Quality Management System which underscores the value proposition for every client who chooses to hold their meeting in a BestCities destination."

With representation across all five continents, BestCities' global network will also provide support and resources for PCMA's international development strategy as they too continue to grow their global community."In a world where most meeting organizations are seeking to extend their global reach, PCMA's partnership with BestCities brings together two iconic industry organizations, who will jointly deliver the best education to assist meeting executives with ease of doing business and showcase opportunities on the global stage," said Sherrif Karamat, PCMA Chief Operating Officer."

"The timing and setting here in Cape Town couldn't have been more perfect for our two organisations to come together. PCMA's attendance and educational delivery at our Client Workshop reinforces the benefits and strengths of our new partnership and we are looking forward to a very productive future together," concludes Ms Bolinger.

Media contact: Brenda Jones, Public Relations. Tel: +61 3 9809 4536/ + 61 3 418 136460/ (mobile) brenda@bestcities.net or Jane Vong Holmes, Managing Director. Tel: +603 7781 8004 /+6012 220 8365(mobile)

Note to Editors: BestCities is the first global alliance to put in place a certification programme - with standards certified by Lloyd's Register Quality Assurance (LRQA) - to ensure a consistent level of convention bureau service excellence from all partner cities. BestCities Partners are Berlin, Cape Town, Chicago, Copenhagen, Dubai, Edinburgh, Houston, Melbourne, Singapore and Vancouver. Tokyo is currently a Regional Affiliate Member and will be recognized as a BestCities Partner when they are formally inducted as a Full Partner.

PCMA is the multi-channel professional resource and premier educator for leaders in the meetings, conventions, events and trade show industries. PCMA provides their 6,700+ members with a community of likeminded colleagues, innovative education and creative global solutions to enhance both their professional development and their organization's face-to-face and virtual connections. Headquartered in Chicago, PCMA has 17 chapters throughout the United States, Canada and Mexico with members in more than 37 countries. For additional information, please visit the PCMA Web site at pcma.org.