Did you know?
• every year 40,000 Canadians die from Sudden Cardiac Arrest
• with CPR and AED use chances of survival increase by up to 50%.
• Hands only CPR is easy to learn and it saves lives
Many people think it's the Paramedic who attends or the Doctor or Nurse at the hospital who will save their lives if they have a sudden cardiac arrest, however they are wrong. If you are unfortunate to suffer a sudden cardiac arrest it's the person sitting next to you as you read this that you need to save your life. Bystander Cardiopulmonary Resuscitation or CPR and the use of an Automated External Defibrillator prior to the arrival of the Paramedics will increase your chances of survival by up to 50%. Every minute delay in the start of CPR and the use of an AED reduces your chance of survival by 10%. Currently Bystander CPR only happens on 41% of all cases in BC?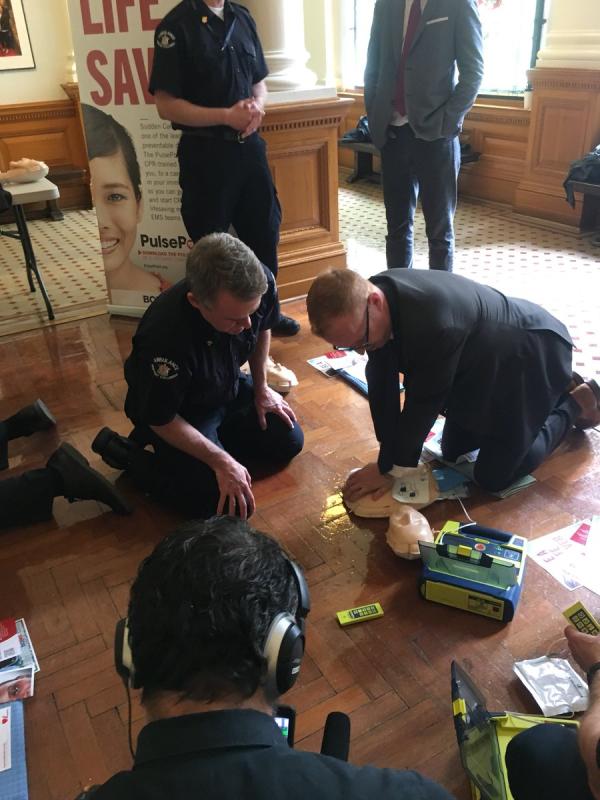 On June 1st, BC Emergency Health Services (BCEHS) paramedics, emergency call takers and dispatchers will be offering the public free, hands-only CPR training and AED awareness courses for the first time in BC.
The high profile 'Be A Life Saver' event will see BCEHS take over Robson Square in downtown Vancouver for the first ever public mass CPR training event in BC. From 11am to 6pm, training will be provided in 30min sessions to members of the public visiting or working in Vancouver. With this training they will be able to be a life saver at home, at work and in their communities. Our goal is to train over 1,500 members of the public in these essential lifesaving skills.