Written by Bridget Terrones, Member Communications Manager of American Academy of Periodontology 
I first fell in love with the mountains on a trip to Arizona after graduating eighth grade. I remember after returning home to the steady plains of the Midwest that I would occasionally look to the sky and pretend that low-hanging clouds in the distance were actually the mountains. When I was in my early 20s, a trip to the Caribbean made me fall in love with the water. The smell of the fresh sea air and the feeling of saltwater on your skin were like kisses from the ocean. Growing up in the windy city of Chicago, I knew the city life well. I never imagined there was a place that could combine three of the things I loved all in one until I heard about the beautiful city of Vancouver.
Beautiful is an understatement. Vancouver is a vibrant city with breathtaking views no matter what perspective you are standing from; whether high up looking out from the Top of Vancouver observatory, miles out at sea looking back at the city and mountain landscape or perched high up in the mountains overlooking the sea and city in the distance. It combines the bustle of city life with the serene landscape of the mountains and calm water.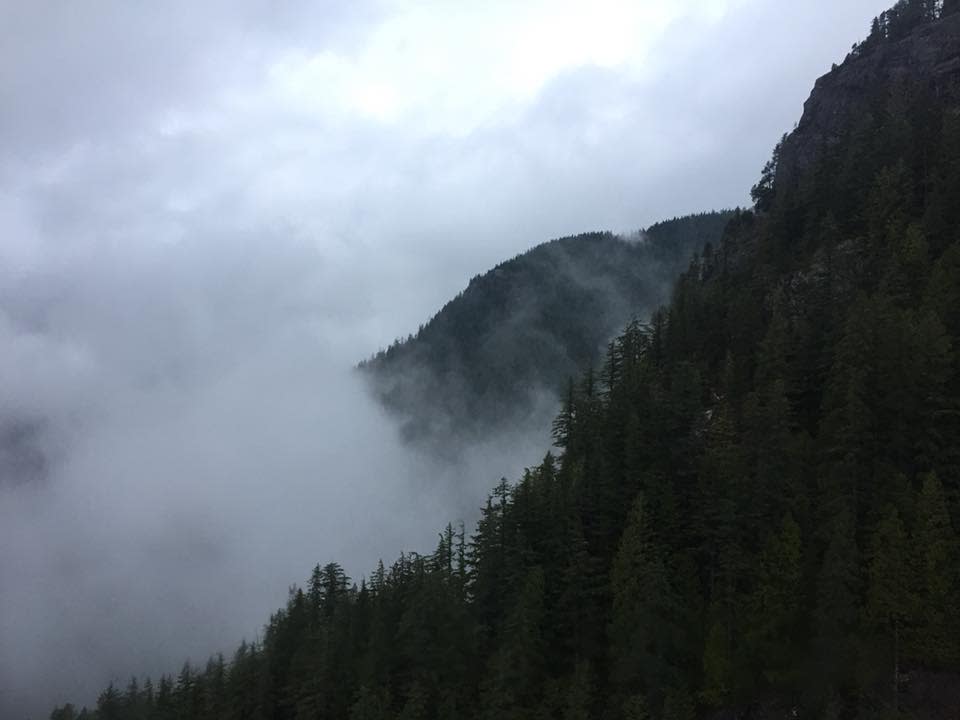 In October, I was sent to Vancouver for my company's annual conference and my husband and I, both avid travelers, decided to take advantage of the trip and extend our stay. As I began to plan our trip, I knew there was one thing we definitely had to do: go on a whale-watching tour. You never really know how to appreciate something until you witness it first-hand.
My main incentive to go whale watching was to see killer whales as I have never seen them in real life before. And being a huge fan of Free Willy, I wanted my childhood dream to see one in real life come true. Unfortunately, we ended up not seeing any killer whales, but got to experience a one-of-a-kind tour that included spotting a group of sea lions and porpoises and hanging out with two giant humpback whales. Yes, two humpback whales named Nike and Zig Zag--thanks to markings on their tails—hung out with our boat and a few others for an hour during the tour.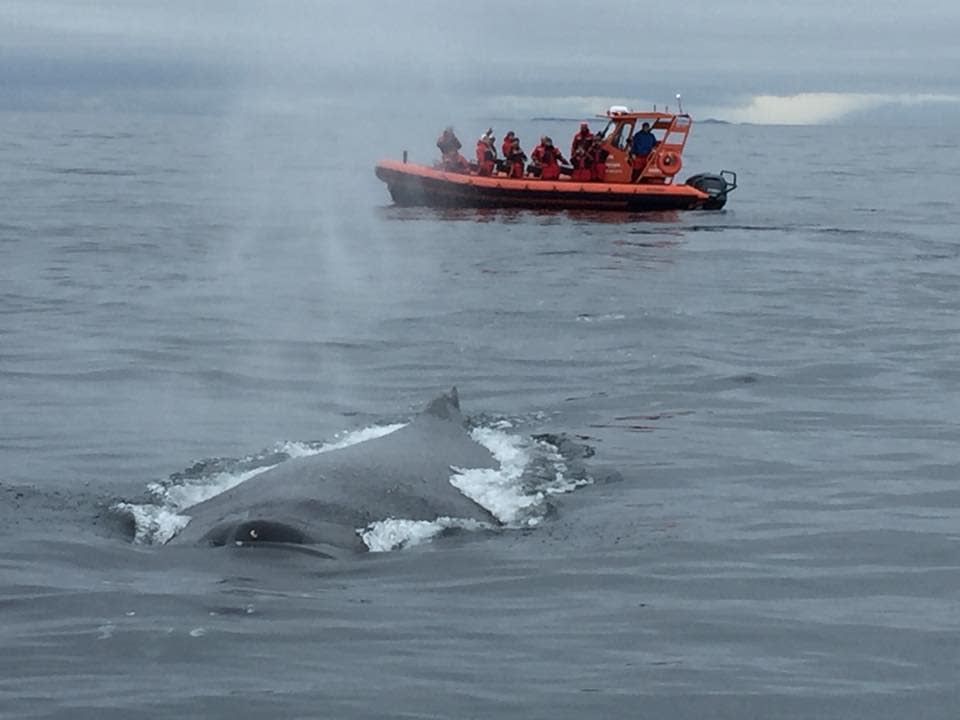 After four and a half hours out on the water on one of the chillier days, my husband and I hightailed it back to Gastown for a ghost tour. It was Halloween night, so we decided what better to do than go on a spooky tour in an old haunted city. Man were we right! Ghostly Vancouver Tours did not disappoint and often left us with goosebumps on our arms during it. The tour even convinced us to visit the third most haunted spot in Gastown, The Old Spaghetti Factory, the next day for lunch during a pitstop on our Hop-On Hop-Off Bus Tour through the city.
After lunch, we hopped on the park tour route for additional sights. To take in the mountains, we visited Grouse Mountain and endured breathtaking views while on the skyride. Once at the top, we went inside a nice cozy-looking building into a giant dining room with views and a fireplace to keep us warm as we indulged in a delicious dinner at The Observatory.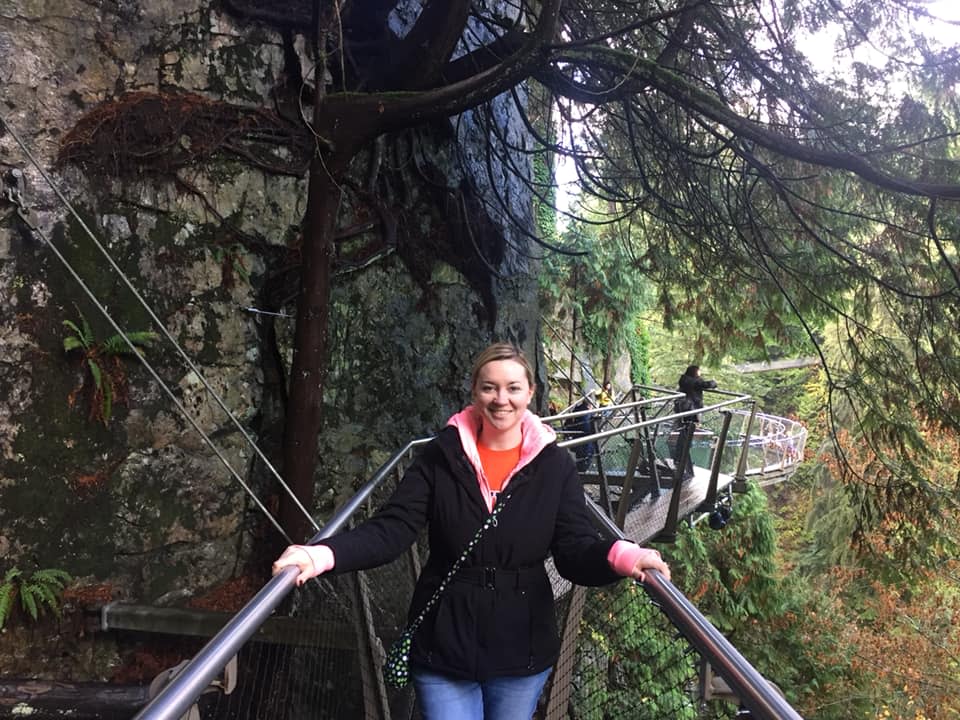 A couple of days later, we ventured up to the mountains again to walk across the Capilano Suspension Bridge while taking in stunning views of the mountains and trees. On our way back to the city, we stopped at Stanley Park and took a horse-drawn carriage tour. Fall is the perfect time of year for a trip through Stanley Park as the trees are dressed in their best colors and although there is a slight chill in the air as you ride through the park, you can snuggle with blankets as you soak in all the beauty the park has to offer as well as the history.
Our final stop for the day was a trip to Granville Island to check out the Public Market and cute shops located throughout. Here, we discovered some delicious home-made cured salamis and delectable cheeses to snack on—perfect for my Italian chef husband. At the conclusion of our day, we devoured a huge seafood platter for two at Joe Fortes Seafood and Chop House and washed it all down with local British Columbia wines.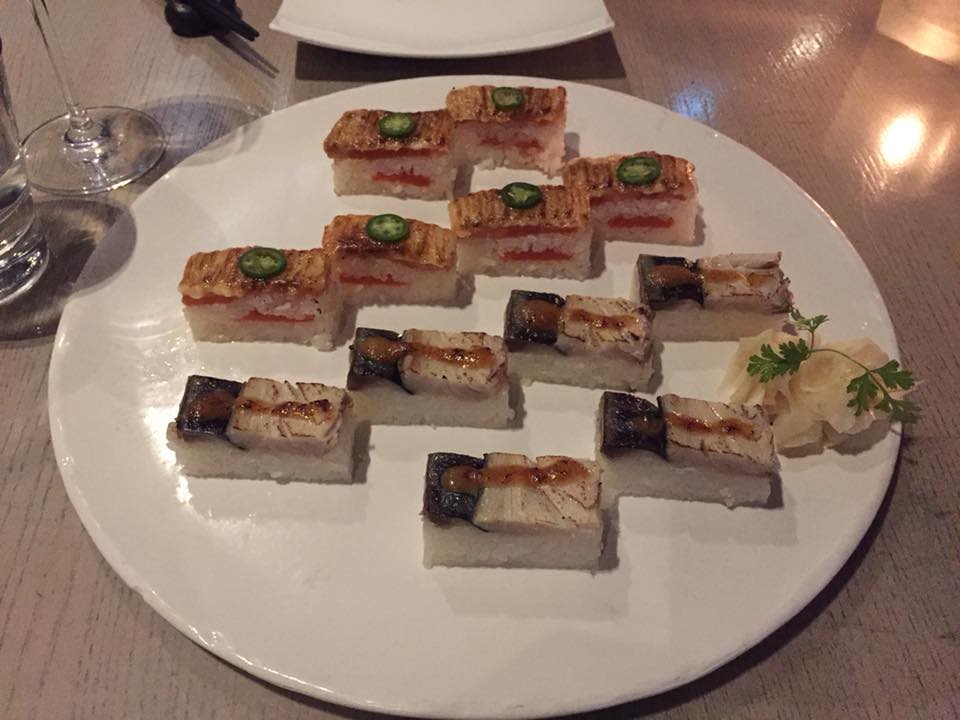 Throughout the rest of our trip we managed to walk through the shops in Gastown and Chinatown. We also continued our Vancouver culinary experience by eating the signature Salmon Oshi Sushi dish at Miku (which I highly recommend), indulging in exquisite bites at Blue Water Cafe, and even visiting one of the many local breweries, Steamworks Brewery & Taproom, for craft beer and cider and some pub food. We even ventured to a couple of local cafes for unique coffee experiences, our favorite of which was Caffe Artigiano, which served up one of the best caramel macchiatos I've ever had all while offering a cute and cozy ambiance.
Our trip to Vancouver was a memorable one. My husband and I had so many adventurous experiences, great food, and met some amazing people. One of my favorite memories of the trip was standing on the Capilano Suspension Bridge—more than 250 feet up from the raging river waters underneath and in between tree-lined landscapes on each side—taking in the sights around me, breathing in that fresh crisp mountain air and thinking to myself, "Wow! This is beautiful." The beauty of Vancouver will forever live in my travel memories and if given the chance to visit this majestic and one-of-a-kind city again, I will not hesitate to say yes. Until next time Vancouver.