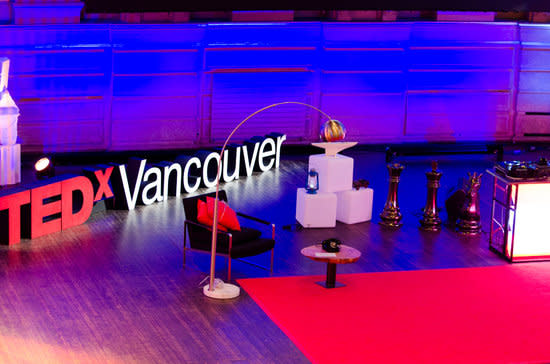 September 2015
Did your invitation to the world-renowned TED Conference in Vancouver get lost in the mail? Here's another option: Vancouver visitors who didn't make the cut for the flagship TED conference (which has taken place in Vancouver since 2014) can take in "ideas worth spreading" at one of Vancouver's many TEDx events.
What is TEDx? Great question. TEDx is a series of independently organized TED events featuring leading thinkers and innovators banding together year-round to share ideas across Vancouver. Here's a snapshot of upcoming TEDx events in the city:
Upcoming TEDx Events in Vancouver:
• September 26, 2015: TEDxWestVancouverED (Kay Meek Centre)
• November 6, 2015: TEDxVancouver (TBD)
• November 15, 2015: TEDxSFU (Vancouver Playhouse)
• April 23, 2016: TEDxEastVancouver (TBD)
• May 28, 2016: TEDxStanley Park (Queen Elizabeth Theatre)
 
About Vancouver's TEDx Events:
TEDxStanley Park
 Live speakers share innovative and optimistic ideas that address humanity's challenges with a community of open and curious minds searching for ways to make a difference. These ideas stimulate, inspire and energize actions that change attitudes, launch movements and positively impact the world. TEDxStanleyPark 2016 is themed "Ideas to Action", and features powerful calls to action that give legs to possibilities.
TEDxGastownWomenThe first TEDxWomen event to take place in Vancouver celebrates the power of women and girls to be creators and change-makers. Women of different ages, origins, and experiences connect to express unique points of view and celebrate the women (and men) who have stood up to challenges around and inside them. The 2015 theme for TedxGastownWomen was "Fearless".
TEDxWestVancouverED gathers those with a passion for education. Speakers challenge viewers to rethink the education system and what defines success via brainstorming and sharing different approaches to gaining knowledge.
TEDxYouth@Granville is run by a group of local high school students and tailored to Greater Vancouver youth between the ages of 12 and 18. Here, students from all walks of life are given a platform to inspire, and be inspired.
TEDxSFU is organized by Simon Fraser University volunteers looking to promote ideas worth spreading. The first TEDxSFU conference, "Connect the Dots", focuses on bringing together singularities to bridge innovation and originality with passion and community.
TEDxEastVancouver(formerly TedxRenfrewCollingwood) supports out-of-the-box ideas by the wildly diverse population in Renfrew-Collingwood, Vancouver's largest neighbourhood. TEDxRenfrewCollingwood gives East Vancouverites an opportunity to pollinate ideas and actions across cultures and borders.