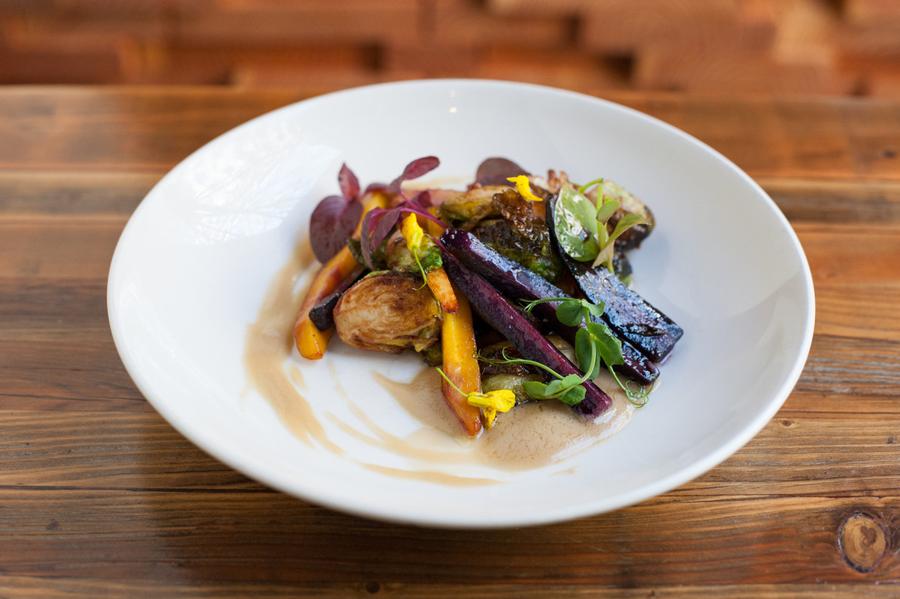 Culinary Campaign: West Coast Food
From the banks of the Pacific Ocean to the farms and vineyards of the Fraser Valley, the Vancouver region is home to a diverse collection of communities rich in fertile farmland, abundant produce, and extraordinary talent from producers and chefs. To highlight the rich offerings of the region and help guide locals and visitors alike, West Coast Food was created as an initiative with the Lower Mainland Tourism Alliance. This new website features content from every participating region and showcases their culinary destinations. Visit the website now and plan your trip! 

Hot new restaurants to know about in Vancouver
BauHaus
Hailing from Berlin comes a fresh contemporary approach to German cuisine by world-renowned Michelin Star Chef Stefan Hartmann.  The menu incorporates both local and fresh seasonal ingredients and offers a tasting menu, à la carte menu, German Classics menu, and a lunch menu. Located in Gastown, the beautifully designed restaurant features both a dining room and a large lounge area. The restaurant is situated inside one of Vancouver's oldest buildings, also known as The Boulder Hotel, originally built in 1890. The building over the last 100 years has gone through many changes: from its early years as a saloon, bank and hotel. 

Ancora
Located in False Creek with one of the best waterfront views sits Ancora. The cuisine's manifesto hinges on sustainable seafood, locally sourced and international ingredients, while also drawing inspiration from our Pacific Northwestern surroundings. Originally from Lima, Peru, Executive Chef Ricardo Valverde brings more than a decade of progressive culinary experience to the tables of Ancora. Joining him as the Raw Food Chef is Yoshihiro Tabo. As a certified Fugu (blowfish) and Japanese-specialty chef, Tabo has established many respected raw bars including those at Blue Water Café and Ki Modern Japanese. Understanding the city's culinary evolution has inspired Ancora to create a menu that accommodates its diners' desires, combining flavours and techniques that embrace diverse cultures in a modern but approachable setting. 

Beach Bay Café
This establishment will be a favourite over Vancouver's summer months. Located a few blocks from English Bay beach, spectacular beach views and stunning sunsets will be visible from the dining room and heated patio. Chef Scott Korzack's The menu features Pacific Northwest favourites made with locally sourced ingredients. Initially interested in a career in finance, a dishwashing job sparked his passion for the restaurant industry and he has since worked at L'Abattoir and as the executive Chef at Bambudda. Joining the team after over a decade as the sommelier at Blue Water Café is general manager Andrea Vescovi.

Torafuku
In 2012, Partners Clement Chan and Steve Kuan started the Le Tigre Truck, which was eventually voted one of the top food trucks in Vancouver. With the success and popularity of Le Tigre comes Torafuku. Nested on the boarder of historical Chinatown; Torafuku is a simple, yet adventurous interpretations of pan Asian flavours. Contemporary dishes, like Dirty Birdy Fried Rice made with chicken liver, prawns, tofu, chilli, and egg are crafted from local ingredients sourced by local farms. Carefully selected wines, local craft beers, and a fashionable cocktail list round out the experience. 

Nicli's Next Door
Nicli's Next Door adds fresh house-made pastas and rustic Italian dishes to the Gastown neighbourhood. Moving in next door to its established big-sister restaurant, Nicli Antica Pizzeria, the Nicli's Next Door menu offers Italian fare beyond the wood-fired oven. Lead by Executive Chef Josh Gale, this former Master Chef Canada contestant had sourced local farmers and purveyors who's seasonal offerings largely dictate the menu. Expect everything - from the butter and the bread to the pasta and the gelato - to be made in artisanal style in house.