BC Place Stadium is the home of the BC Lions, Vancouver Whitecaps FC, the Canada Sevens and many more events throughout the year. The stadium reopened in September 2011 after a revitalization that included a spectacular retractable roof and a host of upgrades that has made BC Place the premier stadium in all of Canada.
As well as upgrades to the stadium itself, the food and beverage served in BC's largest stadium has also undergone a radical transformation in recent years. Healthy snacks like house-made soups, salads and fresh sushi are available at every event. And because Centerplate, the stadium's food and beverage partner, serves more than 1 million people every year, staff have made sure that vegetarian, gluten-friendly, vegan and other special dietary requirements are accommodated.
Here are our top tips for getting the most out of your event experience at BC Place!
1. Choose from more than 20 beers from Vancouver & around the world at The Thirsty Pigeon!
The famous Thirsty Pigeon stands offer more than 20 brews from local and international breweries.
The range includes specialty beers such as Keith's single hop varietals, the fan favorite summer-sipper Shocktop, the famous Goose Island Brewery out of Chicago, and rotating brews made right here in Vancouver.
INSIDER TIP: Dollar-for-dollar, Tall Cans offer the best value out of the range!
Located at Sections 203, 234 and 248
 
2. Indulge your meat cravings with a gourmet carvery-style sandwich from Beast on Fire!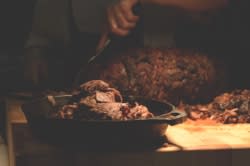 A gourmet carvery-style kitchen serving fresh-roasted premium cuts of meat.
The menu changes regularly featuring items like Slow-Roasted Prime Rib, Smoked Brisket, Grilled Chicken and Vegetarian Ragout – all served with a side of crisps and creamy coleslaw.
INSIDER TIP: Gluten friendly buns are available upon request!
Located at Sections 217 and 237
 
3. Take it up a notch at the Oak & Vine Wine Bar!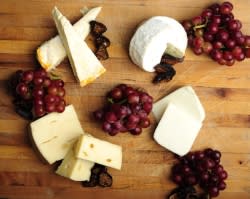 Wine & cheese? Yes please!
Charcuterie selections from D-Original – Vancouver's charcuterie master.
Gluten-free snacks and gluten-free beer!
INSIDER TIP: Impress your date with a fancy cheese plate for just $5!
Located at section 207


 
4. Experience authentic, world-famous curries from Chef Vikram Vij while watching the match!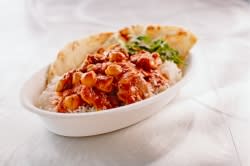 Serving authentic curries from Vancouver icon, Chef Vikram Vij.
Creamy Chicken & Chickpea, Vegetarian Navy Bean and Lamb Curries – all served with steamed basmati rice and naan bread, garnished with chopped cilantro & green onions.
INSIDER TIP: Catch Vikram sampling his famous recipe at select BC Lions and Whitecaps FC games this season – check @BCPlace for updates!
Located at section 220 and 244
5. Enjoy Canada's famous greasy-spoon dish elevated to epic proportions at The Poutinerie!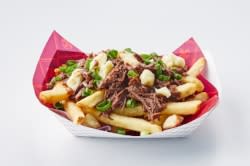 The Poutinerie serves poutine with rotating specials including Butter Chicken, Braised Pork Belly, Vegetarian and Crispy Chicken - a unique spin on the Canadian favorite.
INSIDER TIP: At just $8.25, the Short-Rib Poutine (pictured) is probably the best investment you will ever make!
Located at sections 212, 239 and 405
FINAL FAN TIP: Check out the Foot Long Hot Dog located at any Dawson's Dog location, or the triple-patty Big Event Burger at Lionsgate Grill.
For more great insider tips including exclusive deals available inside the stadium, check out @BCPlace on Twitter and @BCPlaceStadium on Instagram!