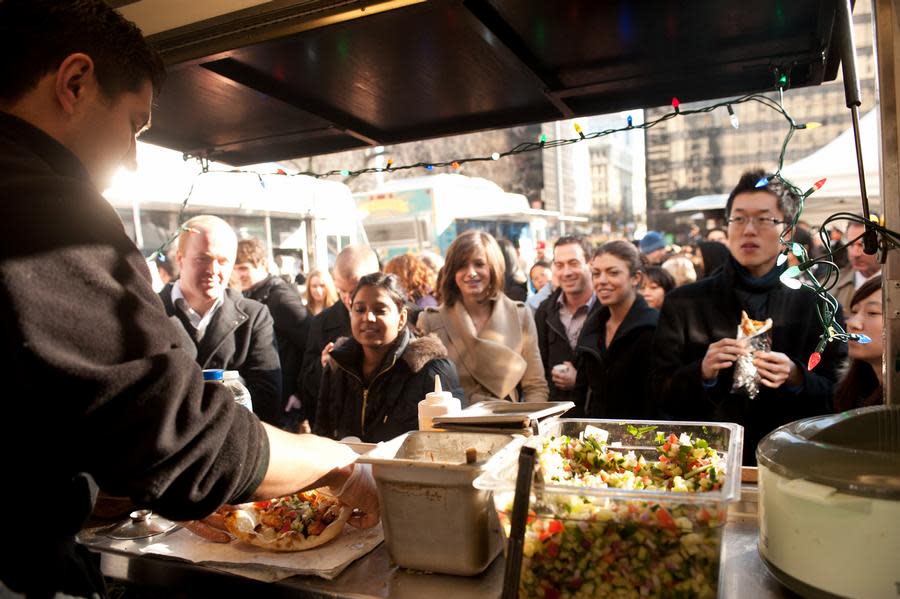 VANCOUVER, BC (January 4, 2016): Now in its fifth year, Street Food City, Vancouver's week-long annual "food truck pod," returns January 16 to 24, as part of Dine Out Vancouver Festival.
Presented by Tourism Vancouver, StreetFood Vancouver Society and the Downtown Vancouver Business Improvement Association (DVBIA), the cheerful pop-up showcase for local food trucks commandeers the north plaza outside the Vancouver Art Gallery.
Inexpensive and constantly surprising in the array and quality of their offerings, more than 25 food trucks will be open for business from 11 am - 3 pm, Monday to Friday, and 11 am - 5pm, Saturday and Sunday. Admission to the plaza is free. Tents, tables and seating make for a comfortable atmosphere and lively music will be provided daily by local radio stations.
"Customers who visit food trucks on a regular basis love this opportunity to find so many in one place at one time," says Suzanne Poudrier, StreetFood Vancouver Society. "Those who've been waiting to check out the scene can wander over at lunchtime from their office towers or after their walk around Stanley Park - whether they're solo, with friends or co-workers - and experience the vitality and diversity of Vancouver's food truck culture."
Choose between hearty Aussie meat pies, the buzzed-about modern Asian cuisine of Le Tigre, world-famous Indian dishes from Vij's, the homey comforts of Reel Mac and Cheese and the rib-sticking goodness of Serious Sausage. One dollar from each of the daily Dine Out Vancouver specials will be donated to A Loving Spoonful, a volunteer-driven, non-partisan society that provides free, nutritious meals to people living with HIV/AIDS in Metro Vancouver.
Street Food City will feature the following trucks and carts:
AUSSIE PIES
MELT CITY
BLUE SMOKE
MOGU
CULVER CITY SALAD
MOMS GRILLED CHEESE
DIDIS GREEK
REEF RUNNER
DISCO CHEETAH
REEL MAC AND CHEESE
DOUGIE LUV
ROAMING DRAGON
EAT CHICKEN WRAPS
SOHO ROAD
ELIS SERIOUS SAUSAGE
SUPER THAI
FAT DUCK
TACOFINO
FEASTRO
VARINICEY PAKORAS
FLIPTOP
VIA TEVERRE
KABOOM BOX
VIJS
LE TIGRE
YOLKS

"Over the past five years, Street Food City has become one of the most popular and anticipated events at Dine Out Vancouver Festival," says Lucas Pavan, Tourism Vancouver's Dine Out Vancouver Festival coordinator. "But remember, it's just one of more than 100 festival events happening during the 17 days of Dine Out. We encourage locals and visitors to experience them all."
Twitter @streetfood_yvr
Instagram @streetfoodvancouver
#streetfoodcity
#DOVF @DineOutVanFest