Tourism Vancouver COVID-19 Information and Resources for Travellers
Last reviewed: Mar 30, 2021
To help mitigate the spread of COVID-19, BC's public health officials are strongly recommending only essential travel to British Columbia until further notice based on direction from the Provincial Health Officer. For more information about the Province's current travel advisory, visit the Government of British Columbia's website.
COVID-19 is being effectively monitored, controlled and treated in British Columbia and Canada.  The Public Health Agency of Canada is actively monitoring the situation and working with the World Health Organization and other international partners.  We know that COVID-19 remains top of mind for many travelers.
Tourism Vancouver is working closely with key industry partners including the hotel community, Destination British Columbia and Destination Canada as the situation evolves. Tourism Vancouver and our industry partners will continue to monitor the COVID-19 situation in other countries closely and assess potential impacts in our region. We are committed to providing updates as new information becomes available. We have compiled some useful resources and information below.
 
Current Updates:
The Canadian border remains closed to international leisure and recreational travellers. While the border remains open for essential travel purposes only, any visitor who arrives from outside of Canada must quarantine for 14 days. We recommend you check the Government of Canada website for updates to the federal response as the COVID-19 situation continues to evolve.
 
For Vancouverites looking for a way to rediscover their city, or visitors planning ahead, visit #LoveVancouver for trip inspiration and what is currently open for business in Vancouver.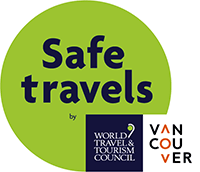 Tourism Vancouver has received the World Travel and Tourism Council (WTTC) Safe Travels Stamp, which allows travelers to pinpoint global destinations where they can experience "safe travels".
Tourism Vancouver has been awarded a Safe Travels Stamp by the World Travel & Tourism Council ("WTTC"). This stamp is the world's first ever global safety and hygiene stamp for the travel and tourism industry, and signals to the public that a destination is safe to visit. 
The Safe Travels stamp has been endorsed by over 200 tourism groups, including the United Nations World Tourism organization (UNWTO). 
Tourism Vancouver along with our partners in Metro Vancouver will continue to collaborate to ensure visitors feel safe in our destination. As a designated public destination authority, Tourism Vancouver will act as a Safe Travels ambassador to our tourism stakeholders and help them achieve their Safe Travels stamp.
Look out for the stamp on our Member's listings on the Tourism Vancouver website.

For the most accurate and up-to-date information on the COVID-19 situation, please visit PHAC's website. They continue to reassess the public health risk, based on the best available information as the situation evolves.
For non-medical information about COVID-19, such as travel recommendations and physical distancing please call the provincial government launched hotline: 1-888-COVID19 or 1-888-268-4319 (open from 7:30 am to 8:00 pm)
If you or someone you know is experiencing possible COVID-19 symptoms, call the provincial health information hotline at 8-1-1, or contact the B.C Centre for Disease Control at 1-833-784-4397.
You can also conduct an initial self-diagnosis at the provincial government's HealthLinkBC page: https://www.healthlinkbc.ca/health-topics/hwsxchk
For more information about travel within British Columbia, visit Destination British Columbia's Know Before You Go.
 
Tourism Vancouver Visitor Centre
The Tourism Vancouver Visitor Centre located at 200 Burrard Street is temporarily closed. You can still get in touch with us by phone or email for help at: 604-683-2000 or VisitVancouver@tourismvancouver.com.
HOURS
Due to the recent provincial health orders in place discouraging non-essential travel, including into and out of British Columbia, and between regions of the province, the Tourism Vancouver Visitor Centre is closed until current health order is lifted.
To view our COVID-19 Health and Safety Plan, click here.
Meetings & Conventions
BC Meetings and Events Industry Working Group website
Additional Resources
Health Link BC's website
Vancouver Coastal Health
Government of Canada Travel COVID-19 Update
Vancouver Convention Centre COVID-19 Update
Cruise Lines International Association (CLIA) Statement on COVID-19
Port of Vancouver Cruise Schedule
B.C. Centre for Disease Control virus update