Tourism Vancouver Initiatives
At Tourism Vancouver, we never take the beauty of our backyard for granted. We're committed to advancing our city as a world-leading sustainable travel destination and fulfilling Vancouver's "Spectacular, by Nature" promise for generations to come.  To help reach the City of Vancouver's goal of becoming the greenest city in the world by 2020, our office has implemented small-but-significant changes to the way we conduct our daily business, for example:
Striving for zero waste with a committed approach to waste diversion and minimization
Offering a Go Green commuting subsidy for employees, supporting sustainable transportation choices
Encouraging teleworking and video conferencing when possible
Using double-sided printing whenever possible, halving our printing volume
But every year we're taking bigger strides down the path of sustainability. Our most recent initiatives include:
Measuring and managing our greenhouse gas emissions with Climate Smart
Becoming members of the Global Sustainable Tourism Council, the worlds only sustainable tourism accreditation body. Spearheading the effort to promote sustainability as a common coal for all tourism industry stakeholders.
Nominating Vancouver and being recognised as a Sustainable Destinations Global Top 100 in 2018.
Metropolitan Fine Printers Partnership - Green Printing
When we have to print brochures and marketing materials, we favour Metropolitan Fine Printers, one of North America's most environmentally conscious printing companies. Metropolitan is one of the first commercial printers in Western Canada to obtain Forest Stewardship Council (FSC) certified supplier designation, and use ultraviolet inks and coatings that release zero volatile organic compounds. Metropolitan is now also a 100% Carbon Free Plant.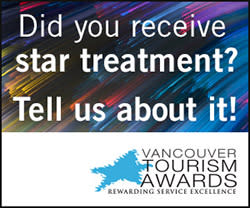 Tourism Vancouver has been recognized as one of the top three Outstanding Employers in Canada.