Green Places & Spaces
Our city planners have done such an outstanding job of making Vancouver a vibrant, accessible city that there's even an architectural term recognizing our special way of doing things: Vancouverism.
With an on-going commitment to mixed-use development, abundant green space, efficient public transit and sustainable building standards, Vancouver consistently ranks among the world's most liveable cities.
Here you don't have to go far to find green theory turned into practice.
Follow these links to discover some of our most environmentally friendly places and spaces:
A recent survey of Canadian cities by Walk Score® gave Vancouver a walkability rating of 78 and declared our city the most walkable city in Canada. With eight neighbourhoods in the city having a walkability rating greater than 80, Vancouver is definitely a convenient way to get around on two feet.
Neighbourhood Walkability: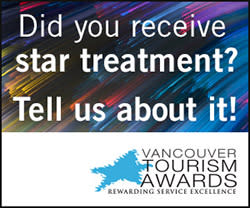 Tourism Vancouver has been recognized as one of the top three Outstanding Employers in Canada.