Government Initiatives
Across British Columbia, at all levels of government, political leaders are taking action to balance economic viability with environmental responsibility.
A Green Leader
At the provincial level, British Columbia - the first jurisdiction in North America to have a 100 per cent carbon-neutral public sector - launched an aggressive Climate Action Plan to curtail carbon emissions. We've protected more than 13.5 million hectares (33 million acres) of wilderness - more than any other province in Canada. And we generate more than 90 per cent of our electricity from no-carbon or low-carbon sources.
Greenest city by 2020
At the civic level, Vancouver has an outstanding record of environmental leadership. Recent sustainability initiatives include a forward-thinking 2040 transportation plan to improve transit and cycling infrastructure; a water conservation TapMap app to raise awareness that drinking our water saves money, reduces greenhouse gases, and prevents plastic bottles from ending up in our landfills and oceans; and an integrated urban planning strategy to create vibrant mixed-use urban communities. In 2015, Vancouver has also implemented a 100% organic waste diversion by banning all organic materials from the landfill.
The City of Vancouver has vowed to be "the greenest city in the world" by 2020, and in 2010, launched a campaign inviting the public to share ideas about how to turn that vision into reality. This has resulted in the Greenest City 2020: A Bright Green Future plan to address Vancouver's environmental challenges. Through a set of measurable and attainable targets, we will put the city on the path to sustainability, and become the greenest city in the world by 2020.
Vancouver already has the lowest greenhouse gas emissions per person of any major North American city, but looking beyond 2020, the city has already set its eyes on a more ambitious goal. With the Renewable City Strategy, Vancouver will obtain 100% of the city's energy from renewable sources by 2050.
Learn more:
Province of BC
City of Vancouver
Metro Vancouver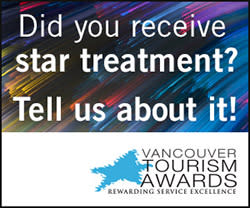 Tourism Vancouver has been recognized as one of the top three Outstanding Employers in Canada.