Sustainable Tourism
We hear it all the time from our visitors: "It's so beautiful and green here!" But in Vancouver, green is more than just a flattering colour. It's a steadfast commitment to sustainability.
We can already claim the smallest carbon footprint of any major North American city, and we're a recognized leader in green building and sustainable planning. And Vancouver is rated second in the US and Canada in the Green City Index. This unique research project was commissioned by Siemens, and prepared by the Economist Intelligence Unit in 2011, and assessed and compared cities in terms of their environmental performance.
But there's more we can do and we're up to the task: Vancouver has an action plan to be the greenest city in the world by 2020.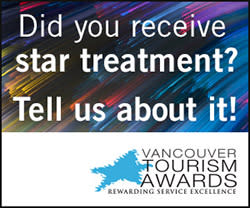 Tourism Vancouver has been recognized as one of the top three Outstanding Employers in Canada.