In The Community
Through destination development, Tourism Vancouver is committed to ensuring an environment for long-term success and sustainability for the tourism industry. We work hand in hand with different levels of government, the community and other stakeholders to establish strategies that will guide the long-term growth of tourism while supporting our community.
Our goals are to:
Advocate for the infrastructure changes and policy development Vancouver needs for tourism growth
Share the positive impacts that tourism has on the local community, economy, standard of living, and quality of life. We want you to celebrate with us all the things the tourism industry provides.
READ: SAP Labs: Four Reasons to Make Local Attractions part of your Next Corporate Meeting
By Kirsten Sutton, Vice President and Managing Director, SAP Labs Canada
--->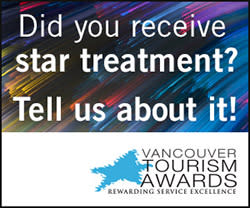 Tourism Vancouver has been recognized as one of the top three Outstanding Employers in Canada.