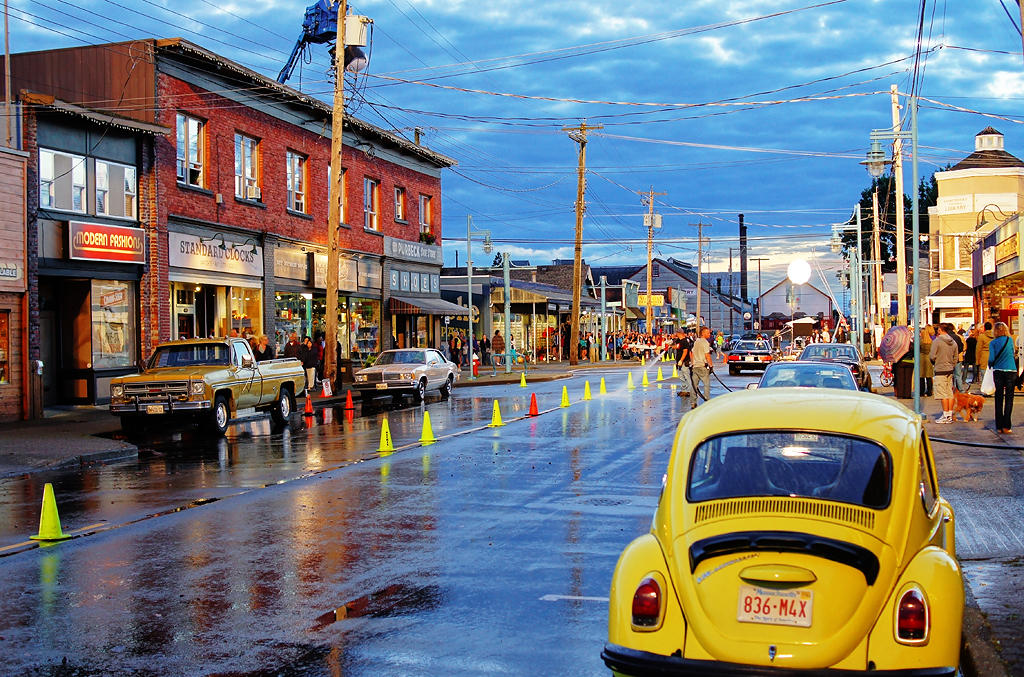 Photo credit: TOTORORO.RORO | Flickr
Filmed in Vancouver
Hollywood North's Movie Industry
Just a two-hour flight from Hollywood, Vancouver has become the third largest centre for the film industry in North America, earning it the nickname "Hollywood North." After all, the movie industry pumps $1 billion a year into the local economy, and with flicks like the 50 Shades of Grey, Deadpool and The Interview being shot here, word is out that Vancouver is picking up the glitter of its American Tinseltown sister.
Chalk it up to lower production costs, close proximity to a wide range of locations, or a climate conducive to all-year shooting. Whatever the answer is, Vancouver has become a hit with movie producers and, by extension, movie stars. This actually isn't a completely new thing. In fact, celebrity lore has tangled with Vancouver since the days when Gary Cooper hitched a ride back to the Fairmont Hotel Vancouver on a passing street-cleaning machine.
Celebrity Spotting in Vancouver
Today, spotting a celebrity in Vancouver has gotten a lot more common. Jessica Alba, Halle Berry, Hugh Jackman and more have explored the city when they're not filming, frequenting Vancouver joints like Blue Water Café + Raw Bar (Alicia Silverstone, Jamie Lee Curtis, Uma Thurman), CinCin Ristorante (Ben Affleck, Naomi Watts, Macy Gray, Justin Timberlake) and Tojo's Restaurant (William Shatner, Eddie Murphy, Morgan Freeman).
Of course, movie stars have to sleep somewhere. If you're completely obsessed, you can always try camping out at one of the hotels that celebrities love:
Top Films Shot in Vancouver
A lot of people express surprise about Vancouver as a filming destination, and they're even more surprised when we rattle off some of the blockbusters touting Vancouver credentials. Here are five that we like:
50 Shades of Grey (2014)
Starring: Dakota Johnson, Jamie Dornan, Marcia Gay Harden
Although this movie is set in Vancouver, WA and Seattle, most of it was shot in Vancouver, B.C.! Watch this much anticipated film version of the uber-popular book, and you'll see Christian Grey jogging the seawall, Gassy Jack's statue, and lots of downtown and Gastown street scenes. After many a long day shooting, the cast and crew were spotted kicking back at the Irish Heather.
Twilight: New Moon (2009) 
Starring: Kristen Stewart, Robert Pattinson, Taylor Lautner, Ashley Greene 
When the Twilight crew came to Vancouver in March 2009 to shoot New Moon, it was one of the most highly anticipated events in the city. Vancouver was abuzz about potential filming locations, and packs of crazed teenagers were prowling the city in search of vampire celebs. If you see the movie, look for scenes shot in Stanley Park and Kitsilano.
X-Men: The Last Stand (2006) 
Starring: Hugh Jackman, Halle Berry, Ian McKellen, Patrick Stewart, Famke Janssen, Anna Paquin 
There's nothing like the Vancouver wilderness to inspire mutant adventure. Some scenes from the other X-Men movies were shot in the city, but X-Men: The Last Stand features such easy-to-recognize landmarks as Vancouver Art Gallery and the University of British Columbia (UBC).
Saving Silverman (2001) 
Starring: Steve Zahn, Jack Black, Jason Biggs, Amanda Peet 
It's inevitable that a cast like the one in Saving Silverman would create an epic laugh track, especially with its ridiculous plotline (Zahn and Black try to save Biggs from an über-aggressive Peet). Plus, Vancouver is everywhere in the movie: Granville Island, Jericho Beach and the old Cannery Seafood House all make prominent appearances in the film.
First Blood (1982) 
Starring: Sylvester Stallone, Richard Crenna, Brian Dennehy 
This classic wasn't shot in the city obviously, but Golden Ears Provincial Park, known as one of the best camping spots in Vancouver, was the setting for much of the first Rambo film. Just think: you can go camping where Rambo went postal!