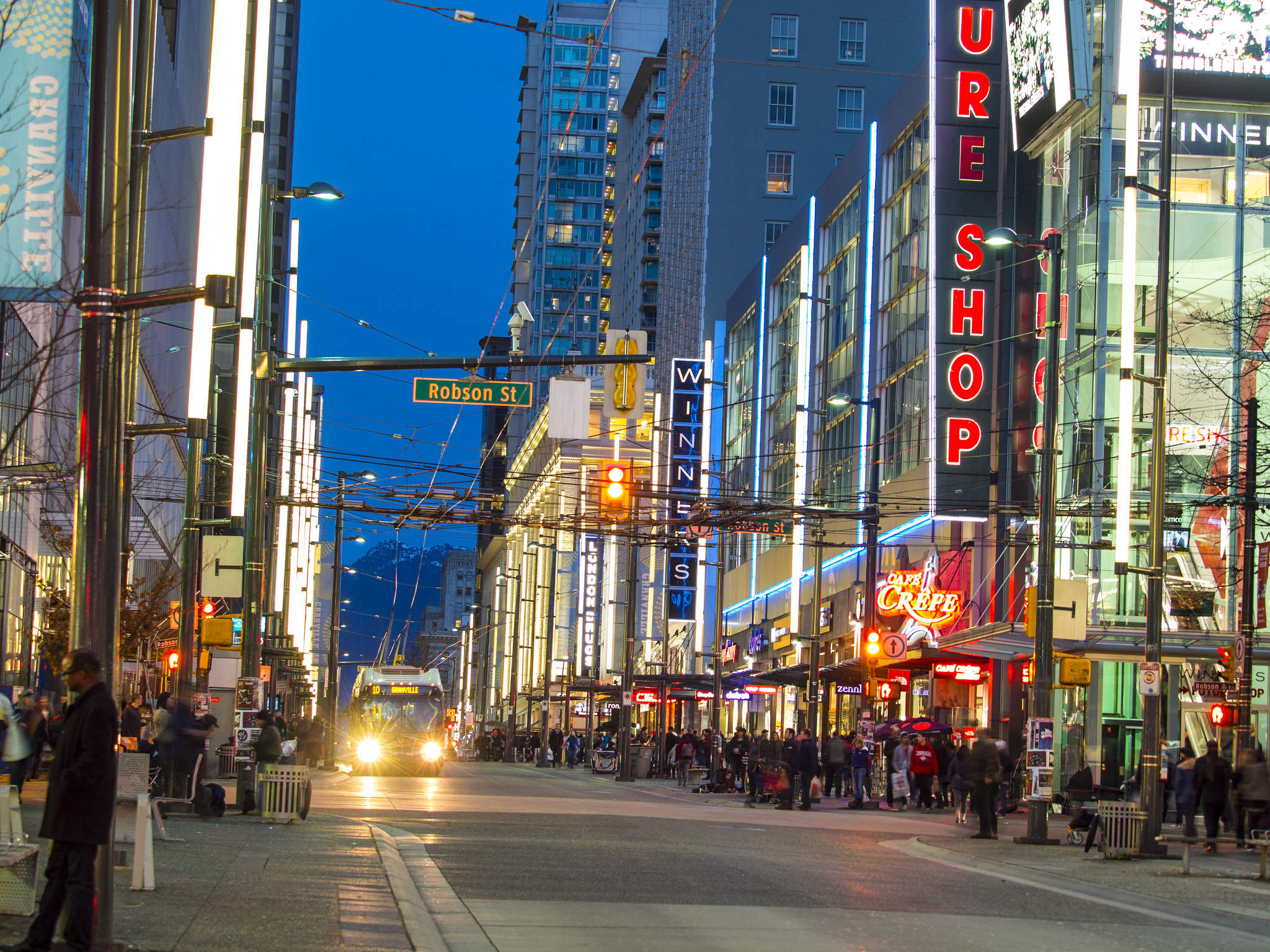 Photo credit: Cathy McKie | Flickr
Vancouver's Nightlife Neighbourhoods
The evening is young and you're looking for some action. Vancouverites might work hard and work-out harder, but they play pretty hard too. All over the city, you'll find neighbourhoods ready for nighttime fun, whether it's catching a band, sipping a cocktail, or dancing the night away. 
Think of Granville Street as Vancouver's equivalent of the Vegas Strip: a neon-lit drag packed with people, energy and plenty of bars and clubs that stay open until the wee hours. The city's original entertainment district, Granville Street caters to a younger, university crowd with block after block of pubs, dance clubs and live music venues.

If you go: Grab a craft beer at the Granville Room before hitting the dancefloor at a club like Republic or Venue. If you're looking for a more adult evening, hit The Granville Strip for an exotic show lounge experience. 
A former downtown warehouse district, Yaletown is home to a robust nightlife scene. If Granville Street's scene targets the twenty-somethings, Yaletown skews about 10 years older, meaning that you're more likely to find couples toasting the end of the work-week with a designer cocktail, and well-dressed friends getting together at exclusive lounges. 

If you go: Consider starting your evening at Yaletown Brewing, Vancouver's original brewpub with a sports bar vibe that heats up after dark. OPUS Bar in the OPUS Hotel is a place to see and be seen, but if you're for something a bit more casual, check out the pub-style New Oxford and Tavern downstairs. 
Vancouver's oldest neighbourhood, Gastown has been reborn in recent years as a place to go after dark. While Granville Street is the place to go for clubs, Gastown's scene is more about bars. This is an excellent place to go for a cocktail, but you'll also find Irish pubs, wine bars, and beer halls. If you're looking for a more refined atmosphere, many of the coolest restaurants turn into de facto bars later in the evening.  

If you go: In the summer, the epic patio at Chill Winston is hard to pass by. Sit down, order a beer and watch the world go by. Savour a classic, well-made cocktail at Pourhouse, but if your evening is just ramping up, the energy at The Lampligther Public House or The Charles Bar is probably what you're looking for. The bar at the front of Wildebeest is a great place to end the night, with a great wine list and delicious bar snacks. 
Being a beach-side neighbourhood, you would expect Kitsilano to be a bit more laidback that its downtown cousins, and it is. In general, the nightlife here tends to focus on smaller spots filled with locals; you'll find lots of pubs to grab a beer and watch the game, or neighbourhood bistros that offer a killer cocktail program or wine list. Most spots are along West Fourth or Broadway, but you'll also find clusters of hotspots along streets such as Yew that lead down to the beach. 

If you go: Right by the beach, Supermarine is a stylish spot for a cocktail with dinner or afterwards. Chewies, just around the corner, is known for its oysters but attracts a fun crowd in the evening heading in for the well-crafted wine and beer list. Along West 4th Avenue, Bimini Public House is the place for a pint of craft beer and to catch a Canucks game on the big screens.
Davie Village
The heart of the West End, locally known as Davie Village, this gay-friendly neighbourhood has a "come-as-you-are" vibe and diverse selection of bars whose appeal transcends the LGBTQ community. Offerings range from intimate, neighbourhood spots perfect for another glass of wine after dinner, to hot and sweaty clubs and ultra-stylish lounges. The common denominator is an open attitude and commitment to having a great time. 

If you go: Davie Street is a perfect place to wander until you find something that calls your name. Start your evening down by the water at the foot of Davie, and take in the spectacular view on offer at spots like the Bayside Lounge or The Three Brits Public House. If you want to hit the dancefloor, nothing beats a night at Celebrities. Make sure you check GayVan.com for special events and more community recommendations. 
The Main Street district has a "hipster hangout" reputation, and it's not entirely unfair. As the heart of the city's craft brewing community, the area is home to plenty of chilled out tasting rooms filled with beer nerds and cool kids. The neighbourhood's farm-to-table restaurants offer bespoke cocktails for those looking for a nightcap, but there are also hole-in-the-wall gems that make you feel like you've stumbled on a secret. If you're looking for a dancefloor, a couple of clubs offer a friendly place to try out your moves. 

If you go: Start out with craft beers and a bite to eat at Steel Toad Brew Pub & Dining Hall, an atmospheric brewpub a restored turn of the century steel fabricating plant. Head south along Main Street and you'll pass a few more tasting rooms and neighbourhood bars.
Further Afield
The fun doesn't stop at Vancouver's city limits. Across the water on the North Shore, bars are clustered around the Park Royal Mall in West Vancouver, and along Lonsdale Avenue in North Vancouver. Try The Village Taphouse by Park Royal for craft brews and late night bites. Meanwhile, the suburb of Richmond is home to an eclectic selection of bars and pubs, as well as the can't-miss River Rock Casino Resort.